Peters/Wouldham Hall Cement Works
Update June 2015 - This website's domain and web hosting will need renewing within the next year. In order to keep this website online, please consider making a donation of any amount below. We would also welcome any offers from anyone who would be interested in taking the website over. You can contact us at history@wouldhamvillage.com. Thank you.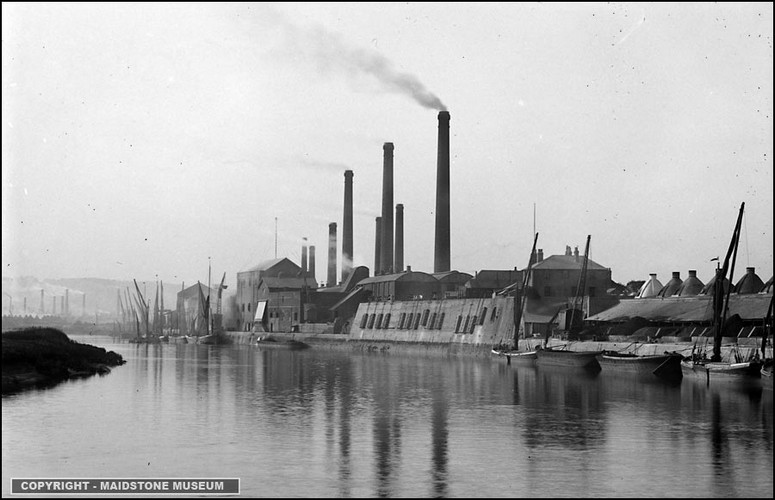 Peters Wouldham Hall Cement Works was located in Hall Road on the riverside.

It is understood that Edward Davis established a lime works at this site, obtaining chalk from two small pits above Wouldham Hall. William Peters was then reported to have started making lime at the same site (or nearby) between 1857 and 1866, known as the Greystone Lime Works. William Peters is understood to have used one or both pits previously dug by Edward Davis. The two pits are thought to have been on the same site as what was to be known as Peters Pit. Also, in the same area of these pits, more specifically behind Ravens Knowle, lime burning was carried out by Coles and Sankey, who also ran a works at Chatham Ness.

William Peters lived at Wouldham Hall from around 1860, passing away seven years later in 1867. His sons Joseph and Edwin began some renovations of the cement works. Joseph sadly died in a coach crash during 1876. William's youngest son, Henry, then took over and became the man in the public eye.


Approximate location marked by the red circle. © OpenStreetMap Contributors.
In 1881 the Medway Conservancy Board was set up, which gave the elite the opportunity to hold local administrative office while maintaining the protection of their own manufacturing interests. The early elected members included Henry Peters along with A.D Robertson who ran the nearby Wouldham Court works. Also, during the 1890s, there was an opportunity to serve as a county councillor, which Henry Peters took up.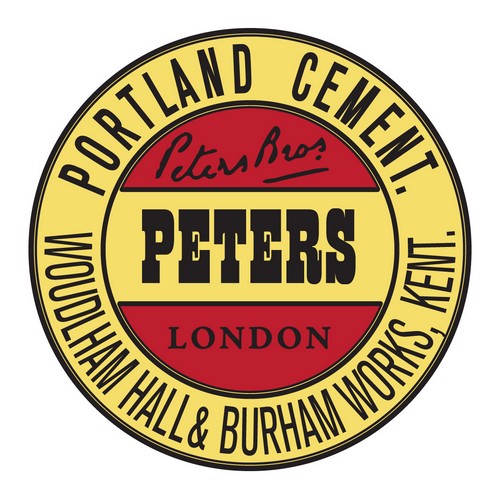 Click on the photo above to enlarge. Photo kindly provided by Mark Peters.
In 1884, public notice was given that Henry Peters would continue the running of the works without brother Edwin Peters.

In the period of the 1880s and 1890s, it is thought that Peters Wouldham Hall Cement Works employed in the region of 1,000 men and operated their own fleet of 80 barges, which was believed to be the largest fleet of barges in the world at that time.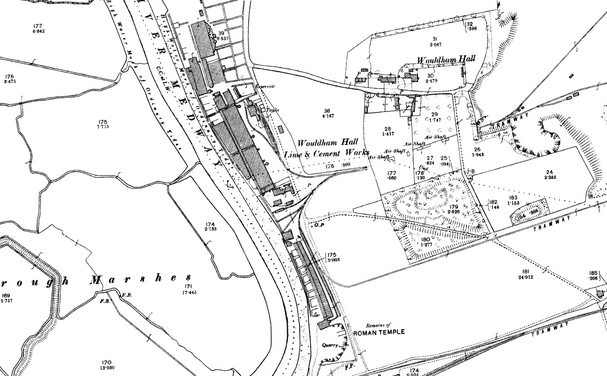 During the 1890s the works was equipped with batchelor kilns. The tall chimney shafts of these were not demolished until the Second World War. These chimneys would have been in addition to the "18 large beehive kilns, with chimneys belching forth flames and smoke" described in Rochester and Chatham with their Surroundings - A Handbook for Visitors and Residents by A.G Munro and Prescott Row, published in 1905.

By 1893, Henry Peters had added his nephews William and Harold to the partnership.

In November 1893, a group of workman digging into a sandbank at the works discovered a chamber, believed to be a Mithraic Temple by archaeologists of the time. The site has since been lost, but is thought to have been under the works on the Burham-Wouldham boundary.

Edwin and Henry Peters presented two additional bells and the clock in 1899 to the church in order to celebrate Queen Victoria's Diamond Jubilee (1897). In 1905, they also gave the organ.

Henry Peters set up a successful Wouldham football team in the late 1800s, which won the Maidstone and District League in 1907-08.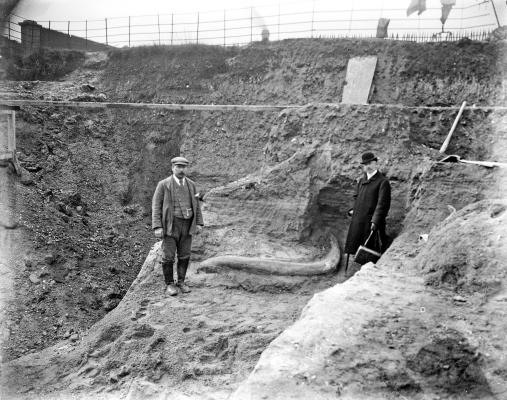 Henry Peters seen standing on the right. Click on the photo above to enlarge. Photo kindly provided by Maidstone Museum.
In 1906, the tusk and teeth of a mammoth was found in Peters Pit. The tusk, measuring over 3 metres can now been seen in Rochester Guildhall Museum. This site, at the top of Knowle Road, is sometimes known as Skeleton Hill.

Henry Peters gave notice in 1909 that he would again run the works on his own.

The site was acquired by BPCM (Blue Circle) in 1911, who combined operations with the nearby West Kent works further along Hall Road.

The works closed in 1925/26 for good. As there was (and still is) no railway on this side of the river, getting to the railway at Snodland involved taking the cement by barge across the river and then hauling it by road using horse and cart. This was far uneconomical compared to the works across the river at Snodland, Cuxton and Halling, where there was far better transport connections.

Henry Peters lived until 1939. His will gave £2,500 to the parish councils of Burham, Snodland and Wouldham.

There has been speculation that torpedo boats and even submarines were repaired at the works during WW2. We have tried to obtain more information about this, but have not yet had any success. What we can confirm however, is that Chatham Dockyard did have an outpost at this site. Chatham Dockyard have kindly told us that buildings were erected on the site including workshops, stores, a police station, a boiler house and a test shop. Given the depth of the water, it seems unlikely that submarines would have gone this far up the river.

During the 1950s and 1960s, the quarry was used by the army as a firing range and they also reportedly used tanks down there as well. A website visitor Michael Ocock kindly e-mailed us to say "it is my recollection that the ruined works were used mainly for Civil Defence search and rescue exercises in the 1950s and early 1960s rather than for army exercises alone. The CD organisation was large and there were many local volunteers".

In recent times, the land where the works stood was used by various different companies including local coach company Farleighs and another company called Waterman Offshore. The quarry was also used by people driving rally cars in the early 1980s. However, the remaining buildings have since been demolished and has been reclaimed by nature, with mostly just concrete bases left. This area is due to be built over with new housing in the coming years, as part of the Peters Village development.
Further Reading
The excellent Cement Kilns website has a page about these works. Please click here to visit.
More Photos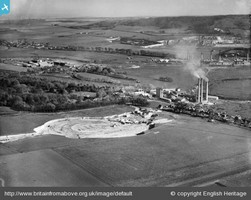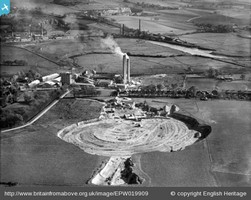 Click on the photos above to enlarge. Photos kindly provided by Britain From Above.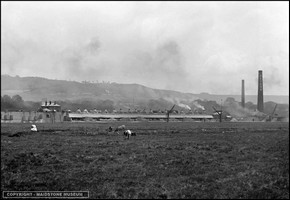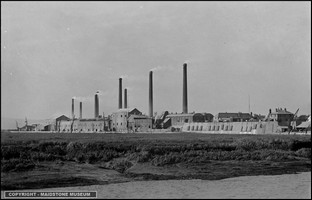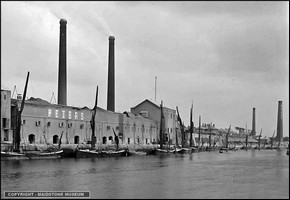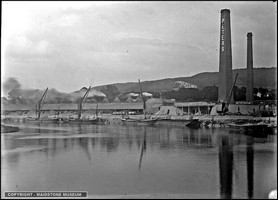 Click on the photos above to enlarge. Photos kindly provided by Maidstone Museum.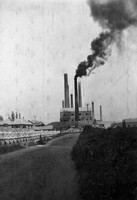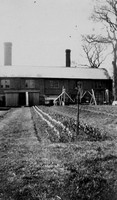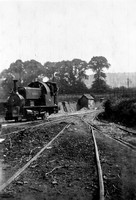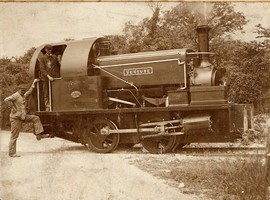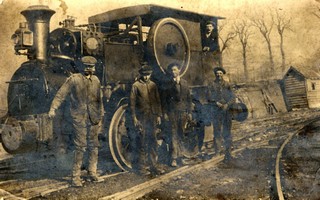 Click on the photos above to enlarge. Photos kindly provided by Snodland Historical Society.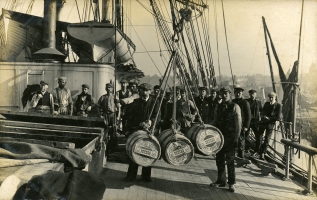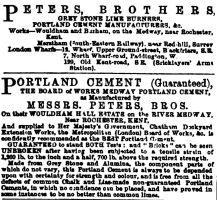 Click on the photos above to enlarge. Photos kindly provided by Mark Peters.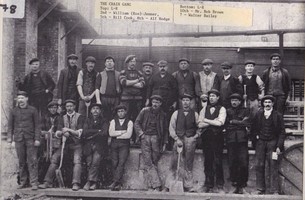 Click on the photo above to enlarge. Photo kindly provided by Wouldham Parish Council.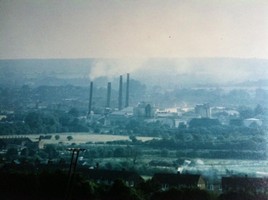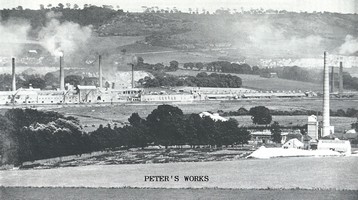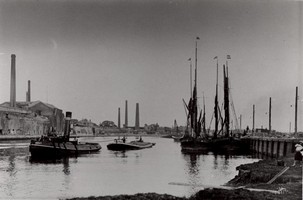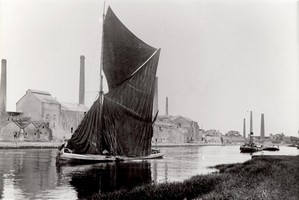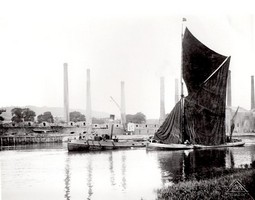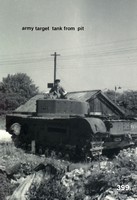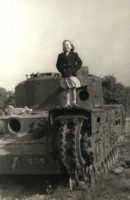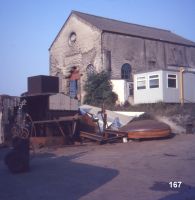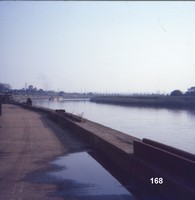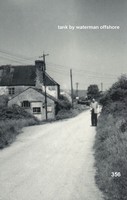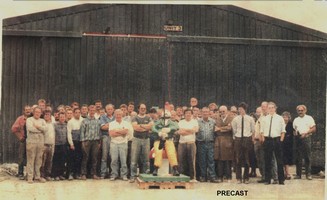 Click on the photos above to enlarge. Photos kindly provided by Roger Webb.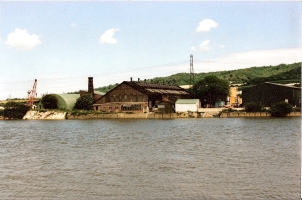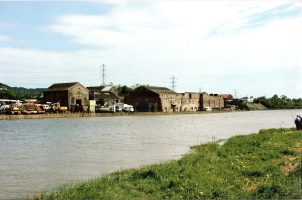 Click on the photos above to enlarge. Photos kindly provided by Michael Pannell.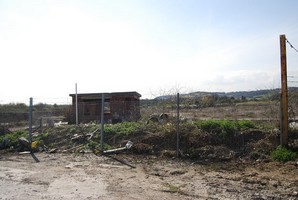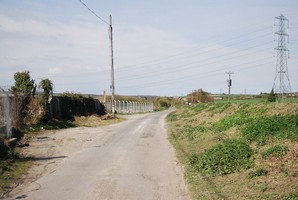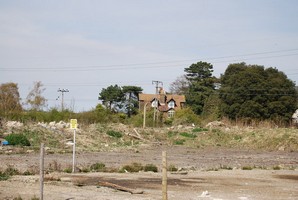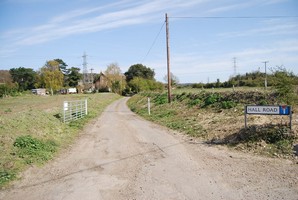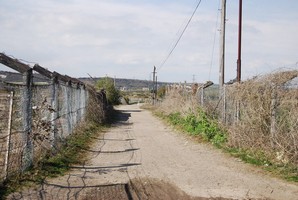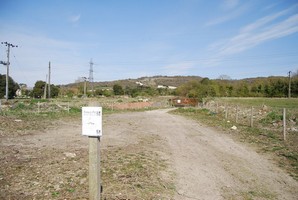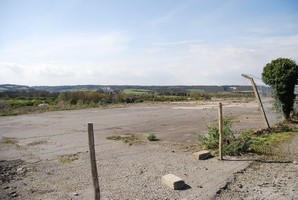 Click on the photos above to enlarge. Photos kindly provided by Nigel Chadwick.
Old Newspaper Reports
Maidstone Telegraph - Saturday 13 October 1860

WOULDHAM.- On Monday last an accident occurred here to a man named William Ellis, in the employ of Mr. Peters, had been to Maidstone for a load of lime, and on returning home, through a gateway near master's house, caught his leg between the gatepost and the wheel, and broke it. He was conveyed to the West Kent Infirmary, Maidstone, where he received the attention of Mr. Furbur, the house surgeon, and is now doing favourably.

The Maidstone Telegraph - Saturday 19th April 1862

WOULDHAM.- FATAL ACCIDENT - On Friday a boy named Charles Hickenbottom, aged 15, employed as a driver of a horse in the chalk pits of William Peters, Esq., of Wouldham Hall, accidently stumbled against a piece of chalk, and before he could recover himself, the waggon , which was loaded with chalk, passed over his body, crushing him most fearfully. He was conveyed with all possible dispatch to the West Kent Infirmary, Maidstone, where he received immediate attention, but his injuries he had received were of so serious a nature that he only lived two hours after his arrival. The poor boy was respectably buried on Tuesday at Burham Church, Mr. Peters kindly paying every expense.

Kentish Chronicle - Saturday 19, December 1863

WANTED. A Sober, industrious Man as WHEELWRIGHT and CARPENTER. One used to country work. Good wages given. Apply to William Peters, Wouldham Hall Lime Works, near Rochester. One used to railway work preferred.

Maidstone Telegraph - Saturday 1st April 1865

ASSAULT AT THE BRICKWORKS, SNODLAND. - George Fessenden, labourer, was surrounded for having assaulted Mr. Francis Willcocks, at Snodland on the 15th March. The defendant did not appear. Mr. W. South Norton, solicitor, West Malling, appeared in support of the complainant. Mr Willcocks said - I am manager of the Wouldham and Burham Brick and Lime Works, belonging to Mr. Peters. I have about 170 men employed under me. On the 15th March the defendant, George Fessenden, was on the works, drunk. I desired him to leave, but he refused to do so. He came and shook his fist in my face, and swore he would punch my ----- head. He put his fist within an inch of my face, and continued to swear and abuse me, and the works were stopped for half an hour in consequence of his violent behaviour. Defendant was on Mr. Peter's premises when I told him to leave, and when he put his fist in my face.

Defendant was fined 40s and costs, or in default six weeks' hard labour. A warrant of committal was ordered to be issued.

Chatham News - 9th February 1867

FUNERAL OF THE LATE W. PETERS, ESQ - The remains of this venerable gentleman were inferred in a vault in St. Nicholas Cemetery on Saturday. The funeral procession from Wouldham Hall to Rochester consisted of the hearse, four mourning coaches, two private carriages, and a large number of the persons who were in the employ of the deceased at his lime-works, who walked two and and two.

Maidstone Telegraph - Saturday 5th June 1867

The committee of management of the West Kent General Hospital gratefully acknowledge a donation of a Lactometer from Mr Hartnup, of Tovil, whereby they will be able to test the quality of milk for the patients. The committee also acknowledge with thanks a present of game for the patients from Lord Holmesdale, whose kindness the patients have duly appreciated. Also the receipt of £8 8s collected from the workmen employed by W. Peters, Esq., at the Wouldham Hall Lime Works, and on the Wouldham, Burham, and Snodland farms, by Mr F. Wilcock.

Maidstone Telegraph - Saturday 25 April 1868

WOULDHAM.- SERIOUS ACCIDENT.- An accident of a serious character, happened to a young man named Samual Keller, 17 years of age, on Wednesday last, employed at Messrs Peters' lime and cement works, Wouldham. The unfortunate young man was in charge of a horse and three trucks, when his foot caught against a piece of chalk, and he was thrown upon the rails, the wheels passing over his left leg, crushing it in a horrible manner. He was conveyed to the West Kent Hospital, when it was found necessary to amputate the shattered limb. Keller is going on as well as could be expected.

Whitstable Times and Herne Bay Herald - Saturday 2nd January 1869

MAIDSTONE. WEST KENT GENERAL HOSPITAL.- The committee gratefully acknowledged the receipt of a donation of £10 6s. from the workmen employed at Messrs. Peters Brothers, Wouldham Hall and Burham Grey Stone Lime and new Patent Portland Cement Works, and Wouldham Hall, Burham Court, and Snodland Farms, by Mr. F. Wilcocks. Also 6s 5d. from Mrs. Wright a patient, expenses allowed her as a witness at the trial of her husband.

The Maidstone Telegraph - Saturday 9th October 1869

SNODLAND. ACCIDENT.- William Pink, of Snodland, a driver in the employ of Mr Joseph Peters, Wouldham, met with a severe accident on Monday morning last night. A chain attached to one of the waggons gave way, and the hook struck him a violent blow on the temples, causing a great loss of blood, and producing insensibility for a considerable time. In falling, he also cut his upper lip right through, No time was lost in producing the services of Dr. White of Snodland, under whose care he continues., but he is in a very precarious state.

The South Eastern Gazette - Monday 1st May 1882.

KENT. WOULDHAM. 3 miles from Rochester, on the Medway, and near Snodland Station. TO BE LET, FROM MICHAELMAS NEXT, WOULDHAM COURT FARM (at present in the occupation of Mr. John Scott), comprising 440 acres (50 acres more if desired), with good house and homestead; of which 288 acres are arable, 101 acres pasture and marsh, and the remainder saltings, sites of premises, &c. Also, SCARBOROUGH FARM, near Burham, about 140 acres, arable, with good house and homestead. Apply to HENRY PETERS, Esq., Wouldham Hall, near Rochester; or to Messrs. DANIEL SMITH, SON, and OAKLEY, Land Agents and Surveyors, 10, Waterloo-place, Pall Mall, S.W.

Western Times - Thursday 12th June 1890

While some workers were engaged at Wouldham Hall Cement works, Rochester, yesterday, placing the coping on a chimney shaft 170 feet high, a sudden storm dislodges the masonry, which fell upon three men, two of them whom were so severely injured that their recovery is deemed hopeless.

Daily Express on Monday 25th April 1904

DEATHS - Peters - On the 19th at the Welches, Bentley, Farnham. Jane Catherine, widow of the late Joseph Peters of Wouldham, Kent.

South Eastern Gazette - Tuesday 31st December 1912

CEMENT WORKERS' WAGES IN ALBERTA.

To the editor of the South Eastern Gazette,

Sir, - When one hears of so much distress in the old country one wonders why more men don't emigrate to Alberta. Wages in Alberta are 8s. to 12s. a day and the cost of board and lodging for single men is 2s. 6d. a week.

Any teetotaller can make enough working to stock a homestead well in one year, and when the homestead becomes his property in four years it is worth £400 and the stock.

Cement and clay-workers can made very good money - 12s. to 15s. a day if competent; 8s. to 12s. ordinary labourers. Factories here are much in advance of those in England as to machinery, and men work in Alberta.

Yours; etc., W.N.S Peters
Manager, Edmonton Portland Cement Co., Ltd

(Mr. Peters, whose address is Dandudrand, G.T Pacific 140 miles from Edmonton, will be remembered as a former partner in the firm of Peters Bro, of Wouldham - Ed)

The Devon and Exeter Gazette - Friday 30th March 1928

Golden Wedding Exeter Associations - The following details of Mr. and Mrs. William Burgess, of Bramley Road, Snodland, who recently celebrated their golden wedding, will be interest to many Exonians. Mr Burgess was born in York Cottages, Boxley Road, Maidstone, in November 1852. He commenced work at the age of nine in Burham Brickfields, where he was paid at the rate of 1d. per 1,000 bricks as a sandboy. In 1869 he enlisted the Royal Artillery, when stationed in Maidstone. He was drafted to India in 1870, and returned to Exeter in 1877. It was while stationed in Devon that he met his wife, and they were married in Heavitree Church in 1878. After 12 years in the Army, Mr. Burgess returned to live at Blue Bell Hill, and was employed by the later Mr. Sandford for four years. He then moved to Mr. Peter's Cement Works, Wouldham, where he remained nearly 40 years. He has now been on the retired list about four years, and is at present enjoying good health and a well- earned rest. Mrs. Burgess is an extremely active woman, and is very proud of the fact that she has been up twice in an aeroplane since her 70th birthday. Her only regret is that she cannot spend the autumn of her life in her beloved Devon.


Guestbook
Do you have any comments or want to contact other people visiting the website? If so, please leave a message in our Guestbook.