Bomb Map
Update June 2015 - This website's domain and web hosting will need renewing within the next year. In order to keep this website online, please consider making a donation of any amount below. We would also welcome any offers from anyone who would be interested in taking the website over. You can contact us at history@wouldhamvillage.com. Thank you.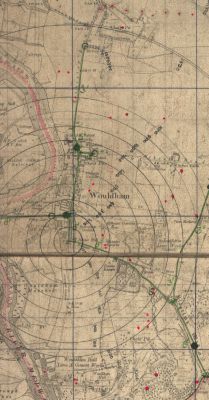 Click on the photo above to enlarge. Photo kindly provided by Roger Webb.
Roger Webb has kindly provided a map of Wouldham, showing where the bombs fell in World War 2.

Old Newspaper Reports
Kent Messenger - 28th February 1997



Click on the photo above to enlarge. Photo kindly provided by Roger Webb.
Bomb on homes land. Police and army explosive experts were called to Wouldham after an old bomb was unearthed on land marked for a housing development.

The bomb was not fused and the army took it away without any problems but more are expected to be found in the area.

It was discovered in Peter's Pit, Hall Road, while the land was being surveyed by representatives of Blue Circle Industries which owns the site.

An army spokesman said it was a small mortar bomb used by the home guard for practise during the Second World War.

The spokesman said: "If that site was used for mortar practise then it is likely that other bombs were there and we have no way of knowing if they are all unfused."

The land, which is marked in the council's local plan as a possible site for housing, is always sealed off and there is no public access.

Blue Circle spokesman Ray Eglington said independent consultants who investigate the presence of wartime weapons have been called in.