Hurricance Wreck
Update June 2015 - This website's domain and web hosting will need renewing within the next year. In order to keep this website online, please consider making a donation of any amount below. We would also welcome any offers from anyone who would be interested in taking the website over. You can contact us at history@wouldhamvillage.com. Thank you.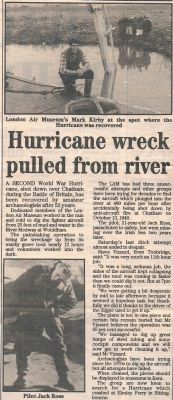 Click on the photo above to enlarge. Photo kindly provided by Roger Webb.
On the 13th October 1940, a British pilot Jack Kenneth Ross was accidentally hit by anti-aircraft guns in bad weather. J.K Ross had to bail out of the Hurricane plane that he was flying and it crash landed near Starkey's Castle on the banks of the river.

There were several failed attempts to salvage the Hurricane but in 1992, a group were successful and the plane was salvaged.

The pilot, J.K Ross, despite being injured in this accident, went on to continue serving his country in the sky. Sadly, on the 6th January 1942, J.K Ross was killed during active service, crashing into the Irish Sea, after suffering mechanical and electrical failure in the plane. The plane and his body have never been recovered.

For more details on J.K Ross, I recommend you visit the following website:

http://www.sewalot.com/j_k_ross_pilot_officer_raf.htm


Old Newspaper Reports
1992

HURRICANE WRECK PULLED FROM RIVER - A SECOND World War Hurricane, shot down over Chatham during the Battle of Britain, has been recovered by amateur archaeologists after 52 years. Dedicated members of the London Air Museum worked in the rain and the cold to dig the fighter aircraft from 25 feet of mud and water in the River Medway at Wouldham. The painstaking operation to bring the wreckage up from its murky grave took nearly 12 hours and volunteers worked into the dark.

The LAM has had three unsuccessful attempts and other groups have been trying for decades to find the aircraft which plunged into the river at 400 miles per hour after accidently being shot down by anti-aircraft fire at Chatham on October 13, 1940. The pilot, 21-year-old Jack Ross, parachuted to safety, but went missing over the Irish Sea two years later.

Saturday's last ditch attempt almost ended in despair.

Steve Vissard, from Tonbridge, said: "It was very much an 11th hour job.

"It was a long, arduous job, the sides of the aircraft kept collapsing and the mud was coming in faster than we could dig it out. But at 7pm it finally came out. "We were getting a bit desperate by mid to late afternoon because it seemed a hopeless task but thankfully we did it thanks to the driver of the digger used to get it up." The plane is not in one piece and certain bits remain buried but Mr Vizzard believes the operation was 85 per cent successful.

"We managed to dig up great lumps of steel tubing and some cockpit components and we will now get to work cleaning it up," said Mr Vizzard.

Archaeologists have been trying since the 1970s to dig up the aircraft but all attempts have failed.

When cleaned, the pieces should be displayed in museums in Kent. The group are now keen to search for a Hurricane which crashed at Elmley Ferry in Sittingbourne.


Guestbook
Do you have any comments or want to contact other people visiting the website? If so, please leave a message in our Guestbook.