Old Newspaper Reports
Update June 2015 - This website's domain and web hosting will need renewing within the next year. In order to keep this website online, please consider making a donation of any amount below. We would also welcome any offers from anyone who would be interested in taking the website over. You can contact us at history@wouldhamvillage.com. Thank you.
Sussex Advertiser - Monday 2nd May 1836

Monday the Hon. Francis de Grey, youngest son of Lord Walsingham, a promising young man, in his 21st year, imprudently entered the water with all his clothes on, at Wouldham, near Rochester, to secure a boat drifting down the Medway, although repeatedly urged by the Rev. Gentleman with whom he was, not to do so. Unfortunately, he was unable to reach the boat, when, becoming exhausted, he sunk, not withstanding the most strenuous efforts of his friend to save him, who, in so doing, narrowly escaped sharing a similar fate. After some hours' search the body was picked up near the spot where it sunk.

Kentish Gazette - Tuesday 25th July 1843

DESPERATE AFFRAY WITH SMUGGLERS,- ROCHESTER, July 20.- On Wednesday night, the 19th inst., in consequence of the Custom-house officers at this port having received some information that a considerable number of half-anger tubs of French brandy had been landed from a peter-boat and stowed away in different parts of the ground near to the village of Wouldham, bordering on the river Medway, and about four miles distant from the city of Rochester. Mr. Clark, a landing-waiter, belonging to the Customs, with Messrs. Heagarth, William Hill, Joseph Johnson, George Taffs, and John Allen, Custom-house officers, proceeded in a van, provided with a number of search warrants, and arrived at Wouldham at nine o'clock. After walking about the street for some little time, they excited the attention of some of the villagers, who lost no time in procuring the assistance of several excavators and lime- burners, and being well armed with bludgeons and pitch forks, commenced an indiscriminate attack on the officers, and drove them out the village. The Custom-house officers having no weapons to defend themselves but sticks, and finding it impossible to contend against the party with any success, forwarded an express to Chatham barracks for the immediate assistance of the military, when a detachment, consisting of one sergeant, one corporal, with 15 rank and file, under the command of Captain Allen and Lieutenant Purvis, was instantly dispatched to the aid of Custom-house officers in the execution of their duty, and arrived at Wouldham about two o'clock in the morning. The navigators and others, on seeing the military, dispersed; a regular search them commenced for the contraband spirits, when a capture of 203 tubs of brandy was made in the cellar of a beer-shop, kept by one Thomas Hart. The Custom-house officers also found six tubs concealed in a ditch, and four more stowed away in a corn-field. Eleven other tubs were found concealed in different persons houses in the village, making, in the whole, 224 tubs, the value of which exceeds 1,000l. A wagon was procured, and the tubs of spirit were piled up in it, and conveyed away to the Custom-house, escorted by the detachment of the military, where the whole is deposited in the store-room. The military returned to their barracks in the afternoon, after having been 12 hours under arms. It is stated that several tradesmen of Rochester, are implicated in the above illegal transaction: a tradesman named Baker, of Troy-town, Rochester, and a blacksmith at Borstal, named Trakenby, are sworn to by the Custom-house officers as being amongst the offenders, and striking them whilst in the execution of their duty, and proceedings will be taken immediately against them by order of the Commissioners of Customs. So extensive a seizure has not been known for some years; the circumstance has created the greatest excitement throughout the town. The smugglers escaped.

Kentish Gazette - Tuesday 29th November 1853

The rectory of Wouldham, near Rochester, has become vacant by the promotion of the Rev. Alleyne Higgs Barker, M.A. It is worth £350 a year, and is in the gift of the Bishop of Rochester.

South Eastern Gazette - Tuesday 24th June 1856

VALUABLE INVESTMENT

WOULDHAM COURT FARM, WOULDHAM, KENT, ABOUT THREE MILES FROM ROCHESTER

Mr Summerfield has received directions to submit for SALE by AUCTION, at the latter end of July net, this valuable LEASEHOLD ESTATE.

It consists of about 454 acres of excellent land, with an appropriate residence, in the occupation of Mr Pye and is held under a 21 years' lease from the Dean and Chapter of Rochester, renewable every 7 years by payment of the customary fine, and was renewed afresh last year. Possession can be given at Michaelmas next.

Full particulars will appear in subsequent advertisements.

Week-street, Maidstone, June 23, 1856.

South Eastern Gazette - Tuesday 8th July June 1856

KENT. THE WOULDHAM COURT ESTATE, Comprising an excellent Residence, with numerous out-buildings, two cottages and 478 acres of valuable land, about 3 miles from Rochester and 7 miles fro the county town of Maidstone.

Mr Summerfield will offer for SALE by AUCTION at the MART, near the BANK OF ENGLAND, on Wednesday 30th July 1856 at Twelve o'clock, the above highly valuable LEASEHOLD PROPERTY, consisting of a substantial and gentlemanly farm-house, with the requisite outbuildings, two labourers' cottages, and about 478 acres of arable, pasture, marsh and woodland (with a right to depasture sheep on Wouldham common) in the occupation of Mr Pye, at the moderate rent of £460 per annum. It is held under a 21 years' lease from the Dean and Chapter of Rochester, which has been renewed every seven years by payment of the customary fine, and was renewed afresh last year. The reserved rent and land-tax amount of £23 13s. 2d. per annum.

This estate is little more than 3 miles from the Rochester and Strood railway station, and is situate near the banks of the river Medway, in the vicinity of the celebrated limeworks of Messrs. Lee and others. It presents a most desirable opportunity to the capitalist, as it contains mines of excellent chalk, capable of being made into grey lime, or the famous Portland cement. These mines may be worked by arrangement with the Dean and Chapter of Rochester. Being contiguous to t he river Medway (on the banks of which it has an extensive and substantial wharf) it affords every facility of water conveyance.

The scenery is most extensive and varied, and the farm is well adapted to the preservation of game, as the upper portion of it contains sufficient cover.

The farm may be viewed on application to Mr Pye, the present tenant.

Particulars, with plans attached, may be obtained ten days prior to the day of sale, at the Sun Hotel, Chatham; Crown Inn, Rochester; Falcon Hotel, Gravesend; at the Auction Mart; of Richard Hart Esq, solicitor, Folkestone of Messrs. Bower, Son & Cotton, 46, Chancery-lane, London; and at the office of Mr Summerfield, Land Agent, Week-street, Maidstone.

South Eastern Gazette - Tuesday 16th September 1856

VALUABLE LIVE FARMING STOCK, WOULDHAM COURT FARM, WOULDHAM

Mr Summerfield has received instructions from the proprietor, Mr William Pye, who is leaving the above farm, to submit for SALE by AUCTION, on Friday the 26th September 1856 at Twelve O'clock, on the premises, the whole of the valuable LIVE STOCK, consisting of 11 powerful draught horses, 3 cart colts, a thorough-bred chaise horse, quiet in harness, 6 short-horn cows, a bull, 79 Kent ewes, 87 Kent lambs, 2 rams.

Catalogues may be had ten day prior to the day of sale, on the premises, at the Crown Inn, Rochester; Bull Inn, Larkfield; Swan Inn, Malling; and at the office of Mr Summerfield, Surveyor and Land Agent, Week-street, Maidstone.

Maidstone Telegraph - Saturday 30th November 1861

WOULDHAM.- At the monthly sitting of the County Court at Rochester, before J. 'Espinasse, Esq., an action was tried Scott v. Yates, to recover £3 15s. for work and labour, in which Mr. Hayward appeared for the plaintiff, and Mr. J. Bassett for the defendant. The plaintiff deposed that he occupied a farm under the defendant, at Wouldham. Defendant was the surveyor of the highways and plaintiff managed that part of his affairs for him. Yates had requested that the parish pound should be mended, and Mr. Boorman had been employed to do the work. The cost of the repairs was £3 15s., which the plaintiff paid at the request of the defendant. On cross examination witness said he was not one of the surveyors. The £3 15s. was placed in the surveyor's accounts, but the parish disallowed it. Proof was given of the work being done, but the defendant denied his liability by stating that the plaintiff was surveyor with him, and that he defendant never authorised him to pay the amount. Judgement was, however, given for plaintiff with all costs.

Maidstone Telegraph - Saturday 25th April 1863

APPREHENSION OF DESERTERS.- On Monday, Samual Bowen, a private in the 4th (King's Own) Regiment, and Mark Mitchell, belonging to the 75th Regiment, both quartered at Chatham, were charged before the magistrates at Rochester with being deserters. The accused were met by Jobling, 106, between nine and ten o'clock on Sunday night at Wouldham, both prisoners wearing their shirts outside their uniform so as to give them a county appearance. The officer, however, feeling satisfied that they were soldiers, apprehended them. The prisoners, when before the magistrates, admitted that they had deserted from their regiments, and they were both ordered to be taken to the Hut-barracks.

Maidstone Telegraph - Saturday 29th February 1868

WOULDHAM.- At the County Petty Sessions, Rochester, on Friday, Stephen Stevens was charged with a violent assault on Sarah Brigden, at Wouldham. The magistrates, on learning the particulars of the assault, refused to be parties to the matter being comprised, which was proposed. The defendant, it appeared, had wantonly placed the complainant's brother in an ash-hole at the limekiln, where they were employed, and on the complainant hearing his cries she ran to him for the purpose of releasing him, when the defendant endeavoured to prevent her from doing so, knocking her down and striking her several times. In answer to the charge, defendant said the complainant came to the kiln for a shovelful of fire, and on his refusing to let her have it she called him names, and then he pushed her. The Earl of Darnley told the defendant that nothing would justify his assaulting the complainant, and he would therefore pay a fine of 20s and costs, or twenty-one days' hard labour.

Maidstone Telegraph - Saturday 9th May 1868

DESPERATE ENCOUNTER WITH A NOTORIOUS BURGLAR.At the Magistrates' Clerk's Office, Malling, on Tuesday last, before K. Tassell, Esq., Charles O'Connor, 32, a deserter from the 2nd Queen's Own, was brought up in custody, charged with burlariously breaking and entering the house of William How, on the night of the 25th ult., and stealing there from about 10lbs. of uncooked beef, seven loaves, and some wearing apparel, to the amount of between £2 and £3.

It appeared that prisoner, a very powerful man, and who is a most determined character, was under confinement at Fort Pitt, and broke out on the morning of the 25th, the day upon which he committed the burglary at How's house. After that day several burglaries were reported within a radius of three miles from How's house ; but all attempts to catch the burglar failed. On Monday morning last two labourers saw the prisoner in a wood at Wouldham, and were about to seize him, when he threatened to cut them down with a bill hook. The threat had the desired effect, for the men did not stand upon the order of going but went away at once, as they had no desire to have the bill hook drawn upon them. They immediately reported where they had seen the prisoner. The police Constable at Burham, to whom the information was given, collected at once about 20 or 30 men ad surrounded the wood, amongst them was William How, who well knew the prisoner. How shortly afterwards came upon the prisoner in the wood, having a bill hook in his hand, and wearing his (How's) clothes, which he had stolen from How's house. As he was about to collar him the prisoner made a cut at How with the bill hook, which he warded off with a large stick, and then struck the prisoner heavily on the side of the head with the stick, bringing him to the ground ; How falling also from the swing of the blow. How rose almost simultaneously with O'Connor and before he could use the bill hook closed upon him, when a desperate struggle ensued. How's call for help brought others to his assistance, and after a long struggle, in which they were compelled to severely beat prisoner, he was overpowered and conveyed to Malling police station. Prisoner was much bruised about the arms, body, and face, the latter being covered with blood when he was taken into custody.

From further investigations it was found that he had built himself a hut, from which he used to sally forth to commit various burglaries. In the hut was found the proceeds of the robberies, the charges for which will be brought against him next Tuesday, to which day he was remanded on the application of Supt. Hulse.

Maidstone Telegraph - Saturday 17th October 1868

VESTRY MEETING.- On Thursday a vestry meeting was held at St. Margaret's to enquire into the correctness of the charge of 1s 4d made by the clerk and sexton of the parish on each funeral in excess of former charges. Also to consider the order made by the justices for widening part of the highway leading from Borstal to Wouldham. The clerk commented to forego his claim, and it was resolved "that the Highway Board be recommended to proceed with the widening of the road in question with as little expense as possible to ratepayers; also that they be requested to employ the poor of the parish on the work.

South Eastern Gazette - Monday 29th March 1869

DEATHS. On the 18th Feb, at Wouldham Court, near Rochester, Charles Andrews, aged 2 years and 8 months, of scarlet fever; also on the 6th March, Jeannie Fergus Ferrie, aged 4 years and 9 months; the beloved children of Mr John Scott.

Maidstone Telegraph - Saturday 2nd July 1870

George Wyatt, 35, labourer, pleaded guilty to stealing 12 gallons of potatoes, the property of John Scott, at Wouldham, on the 27th May. Mr. Dering prosecuted. Two previous convictions for stealing potatoes were recorded, and he was sentence to six months' hard labour.

The Cork Examiner - Wednesday 3rd August 1870

Inquest on Lieutenant Turner. An inquest was held yesterday on Lieutenant Charles Edward Turner, who was drowned while attempting to swim to a pontoon in the river Medway, at Wouldham, near Rochester. A verdict of accidental death was returned.

Maidstone Telegraph And West Kent Messenger - 15th October 1870

Malling Intelligence. BOARD OF GUARDIANS. It was announced that Mr Wimble, the medical officer, wished for an interview with the Board.

Mr Wimble was admitted and said as he had seen his name mentioned in the papers for the last two or three weeks he thought it his duty to come before the board and make a few statements with regard to Wouldham. He had known Wouldham for thirty-eight years and it had more or less cases of fever. This he considered had arisen from the dense fogs from the marsh opposite, and high tides, overcrowding in the cottages, defective drainage, bad water, and the suffocating smoke from the cement works, which prevented the inhabitants from opening their doors, and obtaining the fresh air necessary for their health. His (Mr Wimble's) wife was born there and she was always subject to those kinds of fever, and whenever she had it she always went away till she got better. And the same happened to any of the servants who came there, as soon as they became ill were sent home and then got better.

Now with regard to Mr Scott's dung wharf. He had no doubt that the smell was very unpleasant, but he had never been able to detect one case of fever arising from it. The rectory was a most unfortunate place for a clergyman to reside at as it was situated very low, and the tide coming in very high, overflowed the cellars, leaving a nasty greasy deposit. At Millball a much greater quantity of dung was unloaded during the year and yet a more healthy place could not be found. He had some conversation with Mr Andrews a short time ago and he then stated that Mr Scott had decayed fish in his manure, and he (Mr Wimble) replied that if decayed fish were unhealthy woe to be East Ailing. Several loads came through there daily during the winter and yet they had never had any bad smelling from it. Some time since one of the inhabitants complained and several farmers were summoned before the magistrates when it was proved by medical evidence that although unpleasant to the nose it was not at all injurious to health.

Mr Carey- You don't mean to say the health of Wouldham would be improved by a manure heap lying near it?
Mr Wimble- There may be an unpleasant smell, but I don't think it would be injurious to health.
Mr Carey- Can smell exist without matter?
Mr Wimble- No; there must be some composition.
The Chairman- It is admitted that disease is occasioned in Wouldham by its low lying position, surrounded by the mud banks of the river, with inferior drainage and bad water. Does Mr Wimble consider that this disease is fed in any way by the depositing from time to time decomposed matter in the neighbourhood of the parish?
Mr Wimble- No; we have several cases of fever when there is no manure on the wharf.
Mr Scott- Did Mr Andrews mention to you about the deposit in the cellar?
Mr Wimble- No; I spoke to him about it, as I had a friend at Yalding in a similar predicament.
Mr Bligh- In the inspector's report it is recommended that the wharf be removed 300 or 350 yards from the church and rectory. You don't agree with that report?
Mr Wimble- On the grounds of health I do not.
Mr Snell- Don't you think it extremely desirable that anything tending to increase the unhealthiness of Wouldham should be avoided?
Mr Wimble- Certainly.
Mr Maitland- Do you think the cement works detrimental to the health of the village?
Mr Wimble- I say that the cement works are injurious in this way, that the cottagers cannot have their windows open to admit air sufficient to preserve health.
The Chairman-Some seven or eight years ago great complaints were made of fever in Aylesford, and the medical report upon the matter came in this form, that the landing of manure in the centre of the village was very conductive to fever.
A sanitary committee consisting of Mr Betts, myself, and other gentlemen was formed, and as the wharf was found to be a nuisance it was ordered to be removed. Mr Betts then built a wharf at his own expense at about a quarter of a mile away, and since then the greater portion of manure had been landed there and there had not been nearly so much ill health.
Mr Wimble- I spoke to Mr Betts about the ill health of Aylesford and he had the place inspected, when it was found that the drainage and water were bad. Mr Betts had this remedied and since then there has been little or no fever.
The relieving officers of the various districts then gave their reports, after which Mr Scott, in puruance of a notice given at the previous meeting, proposed that the resolution passed at the meeting of the Board a fortnight previous be rescinded.
Mr Maitland seconded.
The Chairman read the letter from Mr Andrews (published Sept. 16th) as the ground upon which the Board has decided to act, and has passed the resolution which Mr Scott proposed to recind.
He then read Mr Scott's reply (published Sept. 23rd). He also read extracts from Mr Arnold Taylor's report, referred to by both gentlemen, in which it was stated that there was a great deal of impurity in the water, and that the ill health of the neighbourhood was not at all to be attributed to the dung wharf. A letter from Mr Andrews replying to Mr Scott's of the 23rd was also read by the chairman.
The Rev. E. V. Bligh said after the letter which had been read, and from the evidence adduced, which it was totally impossible to contradict, he was going to express a hope that Mr Scott would not call upon them to come to a division on the matter. It was not only a question of the floating about in the air of matters of decomposition, but he thought it possible that the mere smell that illness might ensue. He thought Mr Wimble had enlightened them with the light of ancient days, but those notions had long ago exploded, and if his treatment was in accordance with those notions he could not say that it could inspire much confidence. He earnestly hoped the Board would well weigh the matter before giving a vote having the effect of making them appear before the public to be influenced by notions which they did not entertain when dealing with the nuisances of the poor, and that they did not know their own mind.
Mr Carey said it did not seem to him to be a case to be considered two minutes. Many persons did not know what a smell meant. He asked Mr Wimble weather smell did not imply matter. If they smelt a bad smell it meant that there was matter close to them which came from some decomposed substance. That matter went into the nose and thereby injured the whole body. No nuisance of this kind could exist without a very great deal of injury resulting to the persons who came in contact with it. They had evidence that a nuisance existed, and if the order of the Board remained in force no grievance would result to Mr Scott, who could settle with his landlord where the wharf was to be.
The Chairman said Mr Andrews had stated that the landlords were willing to erect Mr Scott a wharf at another place, but he had objected to have the wharf at that spot. He thought this was an admission on the part of the landlords that they brought a nuisance into the centre of the village by their offering to erect a wharf on another spot.
Mr Scott said it was impossible to build a wharf at that spot, and called in Mr Keeler, overseer of the parish, who said he had known the wharf for three years and no manure had been placed there after April in each year.
The Chairman- Do you know the feeling of the people in the parish.
Mr Keeler- I believe it is adverse to the steps taken by Mr Andrews.
Mr Carey- You mean that they like it.
The Chairman then put Mr Scott's resolution when there voted four for and four against.
The Chairman declined giving his casting vote, and consequently the order of the Board remains in force, and Mr Hoppe, the inspector, was instructed to that effect.

Maidstone Telegraph - Saturday 10th June 1871

FRIDAY.- Before W. Rosher, Esq, and Colonel Bingham, C.B. Robert Tanner, an agricultural servant, was charged with refusing to work. Defendant, who was in the employ of Mr. Keeler, of Wouldham, was ordered to forfeit 15s 6d wages, to pay 10s, and the contract to be annulled. Richard Martin, farm servant, in the employ of Mr. J. Scott, of Wouldham, was charged with absenting himself from service. Fined 10s and 10s costs.

Maidstone Telegraph - Saturday 24th June 1871

FEMALES WITH A TASTE FOR MUTTON. Julia Macarthy Austen, a young married woman with a child in her arms, was charged with stealing, and Elizabeth Still, an elderly woman, who cried bitterly, with receiving 3lbs. of mutton, value 2s, the property of William Mills, at Wrotham, on the 7th June.

Mary Ann Mills, wife of Wm. Mills, deposed- I live at Trosley. On the 7th of June, a piece of mutton weighing 3lbs. was in my shop. It was part of a breast. Austen came into the shop, and then into the sitting room. When we had done our business I went upstairs, and on coming down Austen was still there, and as she was going out I missed the piece of mutton.

By Austen- Both of you came back in the evening, and I accused you of taking the mutton. I cannot say you were in liquor.

Witnesses further stated that on the following day Mrs Still came to her shop and asked her particulars of the case.

P.C. Waghorne said- On the 14th of June I took prisoner into custody at Wouldham, and on telling her the charge, she said she knew nothing about it. When I took her from her house she said she was in liquor at the time or she would not have done it. She said she took the meat and afterwards saw Mrs Still. Mrs Still subsequently went with her to Mills's shop. Mrs Still said, "Give it to me and I will make off with it." Austen said afterwards gave the mutton to Mrs Still, who said, "Now then, you get away, and you will be all right." He took Mrs Still into custody, and when both prisoners were together Austen made the same statement. Still said she knew nothing about it.

Harriett Bennett, wife of Wm. Bennett, of Trosley, said - My garden adjoins that of the house where Mrs Still lives. On Thursday evening I went down my garden and found a piece of mutton covered over with some rubbish. There is a stile leading from Mr Parris's garden (where Still lives) to my garden. I afterwards saw Mrs Still come into the garden, and when I went down a few minutes afterwards the mutton was gone.

William Mills, the prosecutor deposed to finding the mutton in a cesspool at the back of the house where prisoner Still lodged.

Austen was sentenced to ten days' hard labour, and Still was discharged. Still was taken into custody and Auston was called as a witness.

Austen said - I am the wife of George Austen and live at Wouldham. I took the mutton, but afterwards went with Mrs Still back to prosecutor's house. I told Mrs Still I was going to carry the mutton back, and she said "give it to me and I will do away with it." I gave it to her. The meat was at Parris's. I put it into Still's cupboard without her knowledge. I was in liquor and laid down and went to sleep. After giving Still the mutton, she told me to go home to Wouldham.

The other evidence taken having been recapitulated, prisoner was committed for trial to the Quarter Sessions, but was admitted to bail on her husband being bound in the sum of £10, for her appearance.

The Star - Saturday 30 August 1873

THE MURDER OF A POLICE CONSTABLE. At the Malling Police-court yesterday, William Winfield and Walter Coote, privates from the Royal Engineers' camp at Wouldham, who had been apprehended in London the previous afternoon, on suspicion of being implicated in the murder of the police constable, May, at Snodland, on Sunday, were brought up for examination.

Superindendent Hulse, addressing the bench, said the prisoners, since their apprehension, had stated that at the time of the murder they were several miles away fro the place, and this on subsequent enquiry proved to be correct. Under these circumstances he asked the magistrates to discharge the prisoners so far as their implications in the murder were concerned. The grounds upon which they have been arrested were these: -At eleven o'clock on Saturday night, they were seen at Snodland, and it was afterwards found that, having lain about all night, they were picked up by a carrier's van, and were taken to London. They were described as being in a very dirty and disordered condition. It was a fact that they were in Snodland on the Saturday night, but they appeared to have taken the last train to Maidstone, and then to have travelled by road to London, as before stated, on the following day.

The Chairman, the Hon. and Rev. E. V. Bligh, told the prisoners they had, but their irregular conduct, placed themselves in a position of considerable jeopardy. It appeared that they had absented themselves from camp without leave, and, under the circumstances, the police were quite justified in the course they had pursued.

The prisoners were then removed in custody to Maidstone gaol, to await a military escort.

South Eastern Gazette - Monday 15th March 1875

DEATHS. On the 9th March suddenly Mary Stuart, eldest daughter of John Scott Esq, Wouldham Court, Rochester, aged 20. Friends will please accept this intimation.

South Eastern Gazette - Monday 8th May 1882

TO BE LET, from Michaelmas Next, WOULDHAM COURT FARM (at present in the occupation of Mr John Scott), comprising 440 acres, with good house and homestead; of which 288 acres are arable, 101 acres pasture and marsh, and the remainder saltings, sites of premises.

Also, SCARBOROUGH FARM, near Burham, about 140 acres arable, of which 66 acres are now in Rye Grass and Seeds, with good house and homestead

Particulars may be obtained from Henry Peters Esq, Wouldham Hall, near Rochester and from Messrs. Daniel Smith, Son, and Oakley, Land Agent sand Surveyors, 10, Waterloo-place, Pall Mall, S.W.

Whitstable Times and Herne Bay Herald - Saturday 7th March 1885

ROCHESTER. The epidemic of small-pox in the village of Wouldham is abating. There have been seven or eight deaths.

The Lincolnshire Echo - Saturday 23rd June 1894

ALLEGED ATTEMPT TO BOIL A WIDOW. The district justices at Rochester were yesterday engaged in investigating a charge of assault preferred by a widow named Sarah Smith against one Susannah Wheelwrights, married woman. The affair seems to have arisen out of a village scandal at Wouldham. It was alleged that on the occasion in question the defendant caught the widow by the throat, took off the copper lid, it being washing day, and endeavoured to force her into the copper, threatening to boil her. There was much biting and scratching and window-breaking, and by the time the neighbours arrived upon the scene to stop the affray both women had lost so much hair that they were in danger of becoming bald-headed. The widow is still incapacitated. The magistrates, taking into account the provocation Mrs. Wheelwright had received, ordered her to pay 14s. 6d only.

Western Mail - Tuesday 6th December 1898

DELIRIUM AND DEATH. A man named Russell, belonging to Wouldham, died in Rochester Hospital on Monday as the result of terrible injuries sustained on Saturday. He was suffering from influenza, and, whilst in a delirious state, he jumped out of bed and leaped through the bedroom window. Upon re-gaining his feet, he next bounded through a downstairs window, being then secured by his friends.

Chatham News - February 1890

WHEN THE SALLY ARMY FOUGHT ANOTHER BATTLE. Being a member of The Salvation Army proved a hazardous business, this week 100 years ago. A parade through the centre of Wouldham turned into a riot as a gang of 30 youths jeered and hurled lumps of mud. And when two of the attackers appeared at Rochester Police Court, the chairman of the bench was clearly not on the side of the Salvationists. One Sally Army member was dragged out of the parade and kicked by the youths, the court heard. Another, who went to his colleague's aid, was also set upon and had his cornet bent. But the chairman sharply rebuked another Sally Army member for pushing away some boys who were threatening some women. He went on to say that although he had a duty to protect The Salvation Army, they did bring trouble down upon themselves. A lot of people complained about the noise they made, with some justification, and they were often at the heart of disturbances. The two youths were each fined a shilling (5d.)

South Eastern Gazette - Tuesday, August 8, 1893

WOULDHAM COURT, NEAR ROCHESTER. FRANKLIN HOMAN

Is instructed by the Executrix of the late James Cramphorn, Esq., to SELL by AUCTION, on the premises above, on THURSDAY, AUGUST 17th, 1893, at Eleven for Twelve o'clock, the remaining portion of the USEFUL HOUSEHOLD FURNITURE AND EFFECTS, Comprising a mahogany sofa in hair cloth, four mahogany chairs, easy chairs, tables, office table, hall table, hall lamp, about 150 vols. of books, a harmonium, a large barrel organ, rocking chair, iron bedsteads and bedding, washstands, dressing tables, dressing glasses, china, glass, and kitchen utensils, A HANDSOME GREY NAG GELDING, A SUPERIOR "VICTORIA," A MODERN WAGGONETTE, In good condition, TWO SETS of SINGLE BRASS-MOUNTED HARNESS, Stable tools and utensils, horse clothing, a sail for a canoe, with mast, &c., complete; two garden seats, lawn mower, and garden accessories; croquet set, greenhouse plants, exhibition chrysanthemums, and other effects.

Goods may be viewed the morning of sale, and catalogues had on the premises; and of FRANKLIN HOMAN, Auctioneer and Surveyor, 147, Eastgate, Rochester.

Edinburgh Evening News - Monday 12th September 1898

A FATAL FIGHT. Frederick George Norley died in Chatham Hospital to-day from a fracture of the skull, sustained a few days ago during a fight at the village of Wouldham. His assailant accused deceased of being the aggressor.

The Dover Express and East Kent News - Friday 11th November 1904

Affray between gipsies and gamekeepers. The Rochester City Justices were on Saturday engaged a considerable time in hearing a case arising out of a whole encampment of gipsies, many of whom are well known in East Kent, making an attack upon a party of gamekeepers near Little Monk's Woor, St. Margaret's-next-Wouldham, adjoining the Bridge Woods, Rochester, on Thursday. John Lee, George Stapley, Amos Blunt and Thomas Boggle, gipsies, were summoned for an assault upon John Burton, gamekeeper to Mr. Peters, of Wouldham; but only one appeared, the other three having absconded. Warrants were issued, and the case against Lee was proceeded with.

Suspected of poaching, the gipsies were being watched, and upon being questioned at their camp, about thirty of them-men big lads, and woman- attacked four keepers, a sapper of the Royal Engineers, and a boy, at one o'clock in the morning. The men had large staves; the woman gathered flint stones in their aprons and brought them to the men and boys for them to throw at the keepers. The complainant got hit a number of times, once on the forehead.

George Rapson, woodreeve to the Bridgewardens, fired his revolver in the air to try and get the gipsies to fall back, but was unsuccessful, and the keepers had to retreat. Burton's dog - a bull mastiff - seized Lee by the thigh when he was attacking the keeper with a stake so big that he had to use both hands to wield it with.

The defence was that the keepers were the aggressors, and had poisoned the defendants' dogs, which were fastened up under the caravans in their encampment. this was denied. Gipsy Lee caused much laughter by saying that the keepers had accused them of setting snares before they had been there long enough to do so.

The Magistrates convicted the defendant, being of opinion that the keepers were in the execution of their duty when the attack was made upon them. Under the circumstances, however, they would only fine Lee £1, and 16/6 costs.

Both sides were legally represented, and the case excited much interest.

Daily Mirror - March 31, 1906

DEATHS. ANDREWES.- On the 27th inst., at 26, Oxford-terrace, Hyde Park, W., Annie, second daughter of the Rev. Charles Gerrard Andrewes, late of Wouldham Rectory, Kent.

Evening Telegraph - Monday 22 June 1908

DROWNING SEASON.Another bathing fatality took place on the Medway yesterday near Wouldham, between Rochester and Maidstone. A boy named Dennis Lamb, while bathing with other lads, got into a deep hole, and was drowned before help could reach him.

South Eastern Gazette - Saturday 2nd December 1911

REMOVAL - P.C. Friday, stationed at Wouldham for the past five years, has been ordered to Shorne. He carries with him the good wishes of all the parishioners, and is succeeded by P.C. Hooper, who has been stationed at Chatham and Gillingham for 13 years.

South Eastern Gazette - Saturday 6th April 1912

COMPLAINT FROM WOULDHAM. The clerk read a letter from the Clerk to the Wouldham Parish Council, saying that at the annual meeting he was instructed to call the attention of the District Council to the condition of the roads in the parish.

It was decided to reply to the effect that now the weather was improving the roads would probably be better.

South Eastern Gazette - Saturday 8th June 1912

REFERRED - The Overseers of Wouldham wrote stating that a considerable amount of rent was lost in the parish owing to the number of empty cottages, and asking that an abatement might be made in the assessable value of the parish.

It was decided to refer the matter to the Finance Committee.

MEDICAL OFFICER'S REPORT - A special report on the fever outbreak was presented by Dr A H Roberts, the Medical Officer of Health. There had, he said, been 19 cases notified from Wouldham, 8 from Burham and 14 from Snodland, making a total of 41. There had been a smaller outbreak in Aylesford and Burham earlier in the year and a few cases had occurred in Snodland, but Wouldham had remained entirely free until May. At Wouldham the disease was confined almost entirely to the children attending school or to other members of the scholars' families. It became necessary to close the schools on the 16th of the month, the last case reported being on May 28th. If there were no further developments the schools would be re-opened on June 10th. Dr Roberts continued: "I think there can be no doubt that in this outbreak a child attending school while suffering from the disease in a mild form and so infected others."

Having referred to several probable causes of the outbreak, the doctor went on to say that at Snodland cases had occurred amongst children attending both the big schools, whilst three of the cases were beyond school age. He was unable to trace any connection between the outbreak and the milk supply.

South Eastern Gazette - Tuesday 18th June 1912

PARISH COUNCIL - At the monthly meeting on Monday, Mr Bridges presiding, it was decided to approve of the post office being closed on Wednesdays at 1 p.m, providing the mail is dispatched as usual.

South Eastern Gazette - Tuesday 27th August 1912

DEATHS - MEERS - On the 13th August, at 40, Coniston Road, Muxwell Hil, London, in her 81st year, Augusta Mignon, widow of the late Gorge Crittal Meers, and only surviving daughter of William and Caroline Sankey, late of Mansion House, Wouldham.

South Eastern Gazette - Tuesday 24th September 1912

PARISH COUNCIL - A meeting of this Council was held on Monday, Mr J Bridges presiding. Mr Skilton, Chairman of the Lighting Committee, reported that two tenders had been received for the street lighting: J Longhurst £24 5s. 6d., A Peckham £24 5s., and that the former had been accepted. The report was adopted and the agreement with the contractor signed.

Daily Mirror - 17th September 1928

BOY FUGITIVES CAUGHT. Captured by Village Policeman After Escape from Borstal. Two boys- Wilfred Greaves and John Clewely - who escaped from the Borstal institution near Rochester on Wednesday night, have been re-captured. After gaining their freedom they went to Wouldham, where they took off their boots, stockings, and jackets and swam across the River Medway to Halling. They slept in a hut at the back of the railway station, and when a workman came in the morning, they ran away, seeking refuge in an outhouse in a garden. Here the village constable found them.

Aberdeen Journal - Tuesday 18th September 1928

Brief spell of Freedom. A further escapade from the Borstal institution at Rochester has been made by three youths, who dashed off towards the river as it was getting dark. One was caught by a pursuer on a bicycle, but the other two reached the military camp at Wouldham, where they took their clothes off and swan across the Medway to Halling. They were captured by the police after having obtained other clothing - it is thought from a shed.

Daily Express - Tuesday 16th June 1936

Worried Man Says "Human Element Failed". ALBERT EDWARD CARD, at his home in Chastillian-road, Dartford, Kent, worried about his five-year-old son, who was seriously ill had sat up with him for twelve nights without taking off his clothes. Electrical engineer Card, at his work at Wouldham, near Rochester, worried about his sick son, ordered a workman, Robert Attwood, of Orchard-street, Rainham, to climb a pylon carrying power cables-forgot that the wires were charged with 33,000 volts. Attwood touched the wires and was killed. Yesterday, at the Rochester inquest. Card told the coroner: "The human element failed me... My brain was on my little boy rather than on my work." Card was greatly distressed as he gave his evidence. Attwood's widow listened to his story, said she had every sympathy with him, had no wish to cast refection upon him. The jury closed the drama with their verdict of "Accidental death" and expressions of sympathy for the widow - and for Card. His little son, suffering from complications after pneumonia, was slightly better yesterday. There is hope of his recovery.

Taunton Courier and Western Advertiser - Wednesday 17th June 1936

WORKMAN ELECTROCUTED. THE HUMAN ELEMENT FAILED. Sitting in the witness chair of the Coroner's Court at Rochester, Kent, on Monday, Mr. Albert E. Card, an electrical engineer, told how the "failure of the human element" in him was responsible for the electrocution of one of his staff, a workmate and friend, Mr. Robert Attwood, aged 36, a wireman of Rainham. Mr. Card related how, on his orders, Mr. Attwood climbed a pylon at Wouldham, near Rochester. He touched a wire carrying 33,000 volts, fell 30ft. to the ground and died on his way to hospital. Mr. Card said that for 12 days he had no sleep because of the illness of his little son. "I did not take off my clothes once." On Thursday he thought he would inspect the overhead wires at Wouldham. "It was here that the human element failed me. I knew that the wire was charged, but my mind was on my little boy, rather than on my work. I gave orders to Attwood to go up the pylon. There was a flash . . . and he fell . . . "

Mrs. Attwood said she had every sympathy with Mr. Card's position and did not wish to cash any reflection on him.

The jury returned a verdict of "Accidental death."

Daily Mirror - Saturday 27th June 1936

WOMAN PROMISES TO LEAVE TOWN. WELLINGBOROUGH (Northants), Friday. In return for her freedom, a woman promised the magistrates here to-day to go home to her parents at Wouldham, near Rochester, and never return to Wellingborough. Miss Harriet Clifford, thirty-eight, was charged with attempted suicide. She had been found unconscious at her sisters home in Palk-road, Wellingborough. The sister, Mrs. A. Wibberley, said Miss. Clifford had confessed that she was very much in love with her (Mrs. Wibberley's) husband. Francais Wibberley said Miss Clifford had told him that she could not live without him. On undertaking to leave the town Miss Clifford was bound over for two years. "It is desirable you should be kept away from the man," said the chairman. Alderman J. T. Hawthorne.

Tuesday 22nd February 1938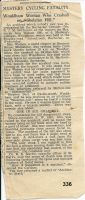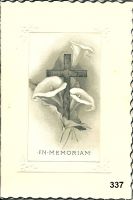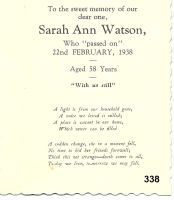 Click on the photos above to enlarge. Photos kindly provided by Roger Webb.
MYSTERY CYCLING FATALITY. Wouldham Woman Who Crashed On "Skeleton Hill.".

An accident which nobody saw was investigated by the Rochester Coroner (Mr. R. J. M. Stedman), at the inquest on Mrs. Sarah Ann Watson, (58), of 6, Medway-cottages, Wouldham, which was held at the Bingley-road Schoolroom, Rochester, on Wednesday. Mrs. Watson, a night cleaner at Sessions House, Maidstone, was cycling home from work shortly before 10 a.m. on Tuesday, when she crashed on Skilton-Hill, which runs down into Wouldham. She dies while being taken by ambulance to St. Bartholomew's Hospital, Rochester. No reason for the accident was forthcoming at the inquest. It was stated that Mrs. Watson was an experienced and careful cyclist, that her cycle appeared to be in good order, and that there was nothing in the road which might have caused the crash. A post mortem examination revealed nothing to indicate sudden faintness or giddiness. Two witnesses referred to Skilton-Hill as "Skeleton-hill."

ONE IN SIX GRADIENT. He considered the hill to be dangerously steep. Police-constable F. W. Hall, who was called to the accident, said he found the woman lying on her back with her head in a pool of blood. She was unconscious and bleeding profusely from severe facial injuries. The gradient of the hill was about one in six, and there was a slight bend at the spot. A skid mark a foot from the near-side grass verge was ten feet long.

"The only thing I can suggest is that she had a seizure coming down the hill, or else that she absolutely lost control of the machine," the constable said.

Dr. R. N. Martin, casualty officer at St. Bart's, said the cause of death was shock following fracture of the spine and multiple fracture of facial bones.

"How it happened is a mystery," observed the Coroner.

The jury returned a verdict of "Accidental death."

Daily Mirror - Saturday 26th February 1938

GUNS VANISH WITH ESCAPED BORSTAL BOYS. Two youths missing from Borstal Institute in Rochester and two sporting guns that vanished from a garage at the village of Wouldham, nearby, are linked by the police.

It is believed that the youths may have taken the guns to shoot rabbits and game to provide themselves with food. Police in cars, on cycles, and on foot, assisted by civilian motorists, are scouring the countryside in search of the fugitives.

The two just calmly walked out through the institution gates just before bedtime on Wednesday and vanished into the night. Twice since they have been seen. A motorist recognised them in their brown institution jackets and shorts, grey stockings with white tops, and grey shirts, running towards Wouldham shortly after they absconded.

Early yesterday morning they were seen on the Chatham-Maidstone road, but mobile police who went in pursuit lost them in the woods a mile or so from the road. During the night they absconded, an unlocked garage adjoining the house of Mr. Lindsay Scannell, a Wouldham smallholder, was raided and the two guns were stolen. The youths are George Henry Weston, aged eighteen, a native of Bow, London, and George Eric Nail, aged nineteen, whose home is at Stretford, Manchester.

Evening Telegraph - Monday 28th November 1938

BARON'S LAUGHTER HELPED CLEAN HOUSE. A baron's daughter, giving evidence in a case at Chatham today in which a widower who has 13 children was charged with neglecting three of them, said that after the death of the man's wife she helped him to clean out the house and gave the children new clothes. She was the Hon. Mrs. Kathleen Agnes Gay, a daughter of Baron Robson, who added that afterwards the house became neglected again, and she arranged for two babies to go to an orphanage. John Nyberg (44), of Church Row, Wouldham, near Rochester, who said that he played a piano accordion in public houses at night in order to bring in some more for the home, was sentenced to three months hard labour. A doctor said that the children were under nourished and verging on starvation, the house was in such a filthy condition that it was unfit for human habitation. Inspector Sadlier said that the children were often alone the whole day, and the father went out until late at night. Sometimes the children had no breakfast.

Daily Mirror - 19th June 1946

EX-CHAIRMAN WONT LET GO THE CHAIRMAN'S BADGE POLITICAL parties in the Kent village of Wouldham are at loggerheads over the Parish Council chairman's badge of office. Ex-schoolmaster, Mr. A. G. Maynard, leader of the conservatives, will not part with the badge to his Labour successor as chairman of the Council. "I was turned off the Council at a packed meeting," he told a reporter. "But that is not my reason for keeping the badge. "It was subscribed for as a gift to a former chairman by every member of the council with one exception- the man who wants to wear it now. "I know I have no right to keep it, but I have a rooted objection to his wearing it round his neck. When he explains why he did not subscribe I'll hand it over." Socialist chairman Mr. A. G. Hall describes his predecessor's actions as "personal spite and bad sportmanship" because the council is now 100 per cent. Sociallst. "I was chairman before Mr. Maynard," he said, "and never wore the badge, I have no intention of wearing it now, but it belongs to the Council and we want it back. "As to my not subscribing towards it. I was in hospital at the time and couldn't. If he wont part with it, we'll take steps to make him."

Daily Express - Wednesday 28th December 1950

TREE LIGHTS MAY HAVE CAUSED FIRE. Twelve month old Danny Tonsett of Wouldham, near Rochester, Kent, woke up crying. His parents, brother and sister found the front room ablaze.

Faulty wiring of the Christmas tree lights may have caused the fire - on Boxing Night.

Daily Mirror - Saturday 23rd June 1951

The father who saw a vision... An ex-sailor who admitted in court yesterday that he hit his brother-in-law with a spanner, was said to have told police: "I tried to murder him. I attacked him and told him I was going to kill him. "Just then I saw a vision of my boy I lost three months before, and heard him say "Don't, Daddy." and I dropped the spanner and went down on my knees."

He was alleged to have added: "If I killed him I would have done the same to myself."

The ex-sailor, Stephen Alfred Knott, 36, now a kiln burner, of Church-place, Wouldham (Kent), was said to have been the first man from H.M.S. Cossack to board the German prison ship Altmarck during the war.

He was discharged conditionally after pleading guilty at Maidstone Assizes to wounding his brother-in-law with intent to do him grievous bodily harm. Referring back to the Altmarck incident, Mr. Justice Byrne said: "That was an incident in those dark days when it was said, "The Navy's here!" Miss Dorothy Dix (prosecuting) told the court the brother-in-law, Peter M'Calinden, had been sentenced for interfering with Knott's eight-year-old niece.

Knott struck him two blows with the spanner and McAlinden had to have thirteen stitches.

Mr. Malcolm Morris (defending) said Knott was a man everybody liked. He was under a great emotional upset at the time.

Daily Express - Friday 7th November 1969

17 ASIANS HELD AS CUSTOMS AMBUSH BOAT

Police seized 17 Asians in an ambush on a cabin cruiser as it sailed up Kent's River Medway late last night.

They were taken to Maidstone police headquarters, where they were being held as "suspected illegal immigrants," said a spokesman. Four crewmen were also arrested.

A combined police and customs operation began 10 hours earlier when the cruiser sailed out of Ostend, Belgium, 100 miles from destination Burham village, in Kent.

The crew paid little attention to the tiny motor launch following at a distance.

It contained Customs men and for hour after hour during the North Sea crossing and into Kent they were in radio contact with 30 police in hiding at the riverside between Wouldham and Burham (population : 1,600).

At 10.30pm, as the cruiser passed through Wouldham, the Customs boat intercepted, and the police pounced.

Seventeen Asians and a crew of four were put into waiting squad cars and taken to Maidstone police station.

Early today they were still being questioned by immigration officials.

A police spokesman said: "The situation will take some time to sort out."

Chatham, Rochester & Gillingham News - 26th June 1970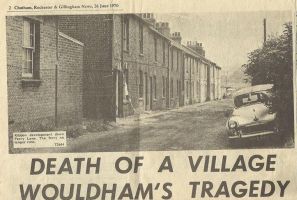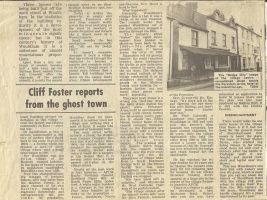 Click on the photos above to enlarge. Photos kindly provided by Roger Webb.
DEATH OF A VILLAGE. WOULDHAM'S TRAGEDY.

Three houses are being built just off the main street at Wouldham. In the statistics of the building industry it is a development of the most minuscule significance; but in this century's history of Wouldham it is a milestone of almost mountainous proportions.

Apart from a tiny outbreak of council housing half a mile away up the Burham Road, named Cornwall Crescent after the chairman of the parish council, it is only the second small building project undertaken in this village - since the war.

Its significance is that it arrests momentarily a history of decline there going back to the early days of the 1900s - a decline which has created a sort of ghost village where once a small town began to rise.

For Wouldham was the boom village of the Medway cement industry. In the space of twenty years its population quadrupled, from 260 to just over 1,000.

Now this abandoned-looking straggle of terraced houses , only four miles from the Medway Towns, is a place cheated of its own destiny, compelled to stagnate deteriorate and retrogressively fall into limbo. Its population, though sited is an ideal Medway dormitory spot, has dwindled.

Today it strikes the passer-by as empty and decayed. Powdered with dust from cement works across the river and lying on the road to nowhere it stands forgotten and forlorn like a desert town in a Western movie.

Small wonder the bus conductors occasionally call; "All out for Dodge City!"

It doesn't resemble (because it isn't) a village that has evolved through the centuries to become a mature and complete entity on its own. Though larger it seems more lifeless than a hamlet. Tall buildings look down on the empty dusty street, ribbon development stretches down its pavements; it is neither town nor village and nothing like a part of Kent. It seems like some sort of habitable folly.

The main street terminates in a track; the Wouldham Cement Company factory has stood empty since 1904; the church choir outnumbers the congregation; the visiting doctor calls twice a week for a surgery at the Gospel Hall; it is several years since a child passed an 11-plus at the village school.

Nearly all the men work in four factories - APCM, Rugby Portland Cement, Snodland Paper Mill or Reeds Paper Mills, Aylesford. A white collar resident is a stranger in the place. Four large families go to make up the population - Peters, Blackburn, Norris and Stevens. New blood is hard to find.

What happened?

Ironically, Wouldham's strange fate is that it was a victim of its own creation. The cement works that pushed Wouldham out of the 19th century stopped moving through the 20th.

The industry which "forged" the rapid development from hamlet to phantom town back in the 1860s- 70s stifled all growth when it moved across the river in 1926.

Stagnation left its ghostly imprint, the roads remained country lanes inadequate for traffic to new industries which wanted to move into the old sites. The defaced and ruined outlook of the village condemned it as an attractive dormitory that people in the Medway Towns were looking for - Burham further out and many other places were more appealing.

The ghost town image is a strong one. Half-way down the main street stands the gaunt white Foresters' Arms, built to accommodate cement work clients during the developing years, opposite it stands the White House, former home of the cement company manager. Next to the Foresters' are small shops with a covered verandah; it looks like this verandah which evokes the Western dessert town image... The gradual slip into decline which began with the cement works moving over the river eventually saw the disappearance of village links. Even a Royal Engineers bridge built in the Second World War was later dismantled; six years ago the ferry across the river to Halling was stopped.

"We have been left in isolation," said 82-year-old Mr. 'Fred Cornwall, chairman of the parish council.

"The village eroded after the cement works left," says Mr. John Pannett, landlord of the Foresters.

Says 53-year-old Mr. Eric Gray: "We were left in the end fighting for our ferry link with Halling, and that's another dump - deader than this."

Mr. Fred Cornwall, a londoner who moved to Wouldham in 1935 and took over the grocer's shop beneath the verandah, has been council chairman for 26 years. Only the village blacksmith who held the office from 1986 to 1926 has served a longer term and because of this Mr. Cornwall has now inherited the badge and chain forged for the blacksmith.

He has watched the village decline for 35 years and he blames the cement company for not releasing land for housing. He has always favoured housing development on a large site in the centre of the village formerly leased to APCM.

There is a chance it might be developed at last. Rochester Math School, who own the site, have submitted an application to build 30 houses there and the plan was last year approved by Malling RDC. It is still with the County Council.

DISENCHANTMENT.

There would today be one more house in the village than there is if it had not been for the general mood of disenchantment that seems to haunt the place. The home of Purser Walter Burke, who cradled the dying Nelson in his arms, stood there for well over a century until it was bought and moved lock, stock and barrel over into Sussex.

This was Wouldham's one faint link with history and now it's gone, which is more than you can say about the history of Wouldham itself with the village still powerless to shake itself free from the 19th century. In 100 years, Wouldham has hardly changed. It's a place imprisoned by its past.

Kent Evening Post - Thursday 22nd May 1980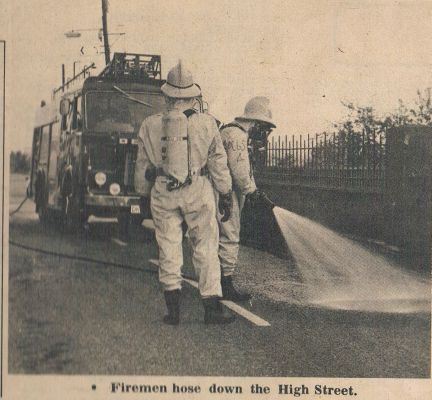 Click on the photo above to enlarge. Photo kindly provided by Roger Webb.
POISON SCARE SHUTS VILLAGE. Firemen tackle chemical leak.

A VILLAGE was sealed off for two and a half hours after a tanker leaked a dangerous chemical along a two - mile stretch of road. Two people were taken to hospital after inhaling fumes. Families in Wouldham were told to stay indoors as 30 firemen hosed down the roads yesterday evening. The trail of toxic chemical Phenol spread from the village of Priestfields, Borstal. The lorry came from Medway chemicals and today Stella Stevenson of Hall Road, Wouldham, who has led the campaign against the firm said: "As far as we are concerned, the sooner Medway Chemicals is closed the better for everybody."

SPILLED - Directors of Medway Chemicals in Peters Works, Wouldham, were holding a top level meeting today to investigate the spillage. Managing director Leslie Lloyd said: "We cannot see how this could possibly have happened but are looking into it fully. About two gallons was spilled. In this sort of quantity it could cause coughing but nothing permanently damaging. "The tankers are sealed before they leave the works and they are specially designed so that even if they had an accident the chemical would not leak. "We offer our apologies to the Wouldham villagers. I would assure everybody there was no real danger."

Subsequent Updates To Above

Dangers of phenol - Liz Oliver's article on the phenol spillage in Wouldham and Borstal concluded with a comforting assurance from the managing director of Medway Chemicals "that there was no real danger". Doubtless he, as you, has the public interest close to his heart and believes, as do you, that what he said was true. Unfortunately, you are both sadly mistaken.

Phenol is described in all chemistry textbooks as being toxic (that means poisonous) and corrosive (that means it attacks the skin), causing acute skin damage usually resulting in blisters, often followed by scarring. No mention is made of its effect on the eyes but one could hazard an educated guess.

That such chemicals are transported by road is cause for concern, that they are carried through residential districts where a spillage may so easily be taken indoors on the feet is a cause for protest, and that a spillage be reported in such an uninformed and casual manner is, for me, cause for despair - G. F. D. Green, Foley Street, Maidstone, Kent. PHENOL 'FROTH' CLAIM WAS WRONG - After reading your report on the Phenol spillage through Wouldham and Borstal, I must clear up some points as your witnesses did not seem very reliable. I have worked for Medway Chemicals for two-and-a-half years and have yet to see Phenol froth unless it is boiling. This needs a temperature of at least 178 deg centigrade. At 40 deg cent, it solidifies and would have done this as soon as it touched the ground. In the solid state it would not fume but would have an odour. The person who sniffed it did the most stupid thing imaginable as to go near any unknown chemical can be dangerous.

It its solid state Phenol is only dangerous if touched and left on the skin. If washed off straight away it will cause no harm, but if left on, the skin will burn. May I respectfully suggest that Mrs Stella Stevens stop her campaign against us and look after her child who has been "ill more frequently" since we started over five years ago and that Cllr Fry get off the publicity bandwagon. S D Hawes-Webster, Malvern Road, Gillingham.

Village grateful for her efforts - Mrs Stella Stevenson, criticised in your correspondence columns last Wednesday, has done sterling work in trying to rid Wouldham village of Medway Chemical Works, and the whole village is grateful to her. One would imagine Mrs Stevenson was the only resident to complain.

Nothing was mentioned of the petition signed by everyone to whom it was presented , and the attendance at the public enquiry of last October by numbers of Wouldham residents. To our regret, the company had permission to continue, but for two years only.

Mrs Stevenson has this nuisance on her doorstep, and at least by her efforts the fumes have somewhat abated, and the appearance of the works slightly improved.

All the village would be glad to see the back of Medway Chemicals, make no mistake. - Mrs. F. Hibbin, Castle Street, Wouldham.

Kent Evening Post - Thursday 11th January 1984

Probe into toxic fumes scare. Is this a case of history repeating itself? If so, Mr. Purdue of Thames Chemicals has revealed himself as sadly wanting in this subject.

In the Kent Evening Post of Wednesday 11th, he is reported as saying "I would have thought there was no reason for people to worry. We have been here for many years now and we have never had any serious incident."

There are at least two people in Wouldham who would not agree with him. They were taken to hospital after inhaling the fumes of a toxic chemical. Less than four years ago this same company was involved in an incident in which Wouldham was sealed off for two and a half hours after a tanker leaked a dangerous chemical for two miles along the road between Wouldham and Borstal.

Families were told to stay inside their houses while firemen hosed down the roads to remove the toxic chemical, Phenol. The managing director was reported as saying "We cannot see how this could possibly have happened but are looking into it fully. The tankers are sealed before they leave the works and they are specially designed so that even if they have an accident the chemical would not leak."

The people of Wouldham may find some difficulty in taking comfort from his words, especially in view of the latest near disaster reported in the Evening Post on January 11th.

What would happen in the event of an accident when these tankers leak without the added stress that an accident would involve? The scale of the resulting leakage would not bear thinking about.

Are the people of Wouldham content to have this works on their doorstep? The Burham & Wouldham LABOUR Party would welcome a further investigation into the safety standards maintained by the works and into the state of the access roads. Bouncing from one pothole to the next can hardly have a beneficial effect on the condition of the chemicals. Surely the roads need to be adopted by the KCC and brought up to standard before a major disaster occurs.

The danger of a major disaster has existed and still exists as the report in the Evening Post clearly shows. How many people reading in their daily paper about the incident in Middlesborough realised that the tanker involved had travelled from Peter's Works in a dangerous condition? An enquiry into this latest incident must be carried out immediately, especially in light of the incident in 1980. A further investigation into Thames Chemicals which may lead to the eventual closure of the works would bring relief to many concerned residents of Wouldham.

1987 Snow, Peter Cook of the Kent Messenger

MUCH has been shown and written about the snows of 1963. However in 1987 wintry conditions proved hazardous as well. Essential services, including the removal of bodies for burial, could only be carried out through drastic improvisations. As one reader, who prefers to remain anonymous, has written, this even included transporting one body in the shovel of a JCB!

"All the villages between Borstal and Maidstone were cut off," he writes. "The snow had drifted under the bridge where the M2 crosses the Borstal-Wouldham Road, to the depth of a double-decker bus. There was a call from a nursing home in Wouldham that one of their residents had died and the body needed to be removed. The Royal Engineers from Brompton Barracks in Chatham were contacted to see if they could get through, but as soon as they saw the drift under the bridge, they knew it would be impossible. So 36 Engineer Regiment from Invicta Park Barracks in Maidstone were called as they had the heavy plant needed to get through. They were already digging their way through to Aylesford. In typical squaddie fashion they drove a Land Rover as fast as they could at a snow drift. It promptly disappeared and two soldiers had to be dug out. A couple of massive diggers were called in and these made short work of the snow drift and managed to get through to Wouldham. When they got to the nursing home they found the deceased man had been placed in a cardboard coffin for transport to Borstal, where a hearse would be waiting. The digger, of course, wasn't designed to carry dead bodies so the coffin was loaded into the shovel at the front.

"The army's arrival had caused quite a stir in Wouldham, and several people turned out to see the digger bouncing along with a coffin bumping up and down in the shovel. It was decided this mode of transport was not very respectful. So the digger, now with the coffin removed, made its way to Borstal, took the hearse in tow, and dragged it all the way back to the nursing home.It was pretty battered by the time it got there. But the body was loaded and it was once again towed back to Borstal. The hearse was virtually a write-off but at least it got there."

Daily Express - Tuesday 6th May 1997

20,000 FISH POISONED

Up to 20,000 fish have been killed after a chemical polluted Kent's Medway estuary. Large numbers of birds, including seagulls and cormorants, may also be dying slowly at sea after eating fish between New Hythe and Wouldham.

Experts were called in last night to try and trace the company responsible.


Guestbook
Do you have any comments or want to contact other people visiting the website? If so, please leave a message in our Guestbook.