Guestbook
Update June 2015 - This website's domain and web hosting will need renewing within the next year. In order to keep this website online, please consider making a donation of any amount below. We would also welcome any offers from anyone who would be interested in taking the website over. You can contact us at history@wouldhamvillage.com. Thank you.
The guestbook has now moved to this page.

Older entries can be found below:
Jane Keene
10/6/14 at 12.33pm

My Great Grandfather was Uriah Stevens who worked the Ferry at Wouldham. He was married to Hannah Fletcher. One of their children was Ellen Stevens who married Joseph Leech a builder in Rochester (who was the Mayor of Rochester for many years) and they had four children, one of whom was my mother Pamela Cynthia. Unfortunately my Mother is no longer alive and I do not know very much about the family history. If anyone has any information/photos I would be very interested.
---
Rick Still
27/4/14 at 12.08pm

My Mother Janice Martin (now Still) was born in Wouldham. I was also born in Wouldham in Temple Row in 1961. My Grandmother was Annie Martin. I am looking for any general history, memories or anecdotes regarding my Grandmother or my Great Grandfather Silus.
---
Jim Bell
22/4/14 at 3.50pm

Lesley Pymm 31/01/14
You mention Mrs Bonwick....a name from the past.
Not much help, but Mrs Bonwick was the cleaner at Wouldham School when I was there approx. 1957. I believe she lived in a house that had previously been Dog & Partridge pub in the village.
---
Angela Read
30/3/14 at 5.24pm

Very interested in the recovery of the crashed Hurricane. The pilot was my mother's cousin, Jack Ross. He was made a member of the Caterpillar Club, exclusive to anyone who'd parachuted out of an aircraft and survived.

Was the article published in the national newspapers? If so, which? I am probably the oldest surviving descendent of the Ross family, although his brother, Michael may still be alive - and older!

Kind regards, Angela Read.
---
Nicholas Sack
30/3/14 at 2.09pm

Thanks to all involved for a superb website full of fascinating info and photos. As a south-east Londoner I visited Wouldham for the first time yesterday, walking ten miles from Aylesford to Rochester via footpaths to Burham old church, stopping for a pint in the Waterman's Arms, and then along the river to the M2 bridge and Borstal. I am particularly interested in industrial history. Does anyone know the origins of the sunken brick and concrete foundations in woodland of silver birch just to the west of the path near Eccles reservoir?
---
Linda Davey
25/3/14 at 4.05pm

Does anyone have any connection with the Baldwin's. My grandmother was born in the Square in the 1800's. I would be interested to hear from you.

My ancestors come from wouldham. There surname was Baldwin. If I visit the village, is the church usually open and do any parish records remain in the village. Thankyou .
---
Daniel Gibson
4/3/14 at 8.22pm

Great site, loads of really interesting stuff,

I have lived in the area (Borstal, Rochester and Ecceles)all my life.

Walk the dog each week along the river down by Peters pit, now understand why there is the foundations etc.

What are the foundations a little further on, down by the water reservoir?

Once again great site.
---
George and Elaine Whittick
21/2/14 at 12.55am

good morning I have a question to ask about st peter pitt my grandfather was the foreman there but I am not sure of the date but my father was born in 1932 and his dad was killed on bluebell hill when he was three years old. I would appreciate any info that you may have even some pictures of him. I do realise this is a tall order and i have very little info. as you can tell by my email i live in perth western australia. many many thanks elaine
---
Lesley Pymm
31/1/14 at 2.37pm

Hi there is a photo of the Norris family. A name has caught my eye. They in the back row, their name is Mr and Mrs Bonwick. I don't suppose anyone can give me information about them as thisis a family nname. Thank you hoping you can help
---
Marg
20/1/14 at 11.35am

Tracing family history of a R,S (Stan) Norris
---
Terry Norris
5/1/14 at 6.38pm

To Sue Murch

My great grandparents bought and lived in the Homestead, my grandparents also lived in the homestead.
---
Pamela Davis
15/11/13 at 3.07pm

Hello, this is a reply to Sue Murch. I was born in Providence Place opposite the Norris family so knew them all well. Neil was the same age as me. We see Spencer and his wife Marion in Strood sometimes.

My mother was Mrs Berkley, known to everyone as Dixie and lived in Providence Place until 2004. The web site brings back lots of memories. We went to Wouldham Church in the summer and went up in the tower. Wonderful views.
---
Anne Martin
15/11/13 at 3.13am

To Dave Wright -

You mentioned your aunt Beatrice Smith. When she lived at Brambletree Cottages she was friendly with my mother who knew her as 'Bubbles'. Her two boys, Sidney and Bernard were playmates. After the war my father became a prison officer at Borstal at the same time as Mr. Smith who was later transferred to another posting about 1951. I wonder what happened to those two little boys?
---
Anne Martin
14/11/13 at 10.06pm

To Linda Humphries -

Thank you for your message. I met many of the people in the photos, including Jesse and Ada Humphries, in the 1940s and often heard Alec and Jack mentioned. Their mother, Caroline (Aunt Carrie), was a cousin of my grandfather, also a Jesse. It was a large and complicated family and there must be hundreds of descendents out there! I got my mother to sort out some 'threads' for me before she passed away.
---
Peter S Watts
14/11/13 at 3.41pm

What a fabulous website. Congratulations to all those engaged in this venture
---
Robert Berry
11/11/13 at 7.07pm

Hello again, have been chatting with someone on Facebook whose family has a long association with Wouldham and Burham. Family name is Underwood and they lived in Purser Place, also has pictures of the bridge and plenty of history to do with the village. The person in Question is Sharon Naylar and have told her to contact the site as i know you are looking for more information and pictures for your superb site.
---
Linda Humphries
9/11/13 at 6.31pm

Hi This is a message for Anne Martin, The photos you have posted on this site there is a lot of my family in them the Norris family, also the photo of jesse and ada Humphries is my fathers brother, my father was Alexsanda Humphries. Carrie and her husband brought the children up as there mother caroline passed away at a young age And father went to London and never returned so I was told.Carrie was my grandmothers sister

its lovely looking at thses photos as there are not many of my family left that I no off..must be some out there ha ha .

the old white house in the village my father grew up in that house Alexsander Humphries lived there with his brother jack and jesse there mother died very young so were brought up but there auntie and uncle and there 2 daughters
---
Raymond Kirkby
06/11/13 at 8.06pm

I like the picture of the Norris family at the Homstead my mother was a Norris, These are the first images of my Grandparents that I have ever seen and I am now 68 years of age. So a big thank you.
---
Robert Berry
04/11/13 at 12.33pm

I would like to congratulate the person or people who have constructed such a wonderful site. I live in Borstal and often walk the dogs through Wouldham and through the area of Peters Cement Works and have often wondered what it would have looked like.

I came across this site by pure chance and it has given me and others i have showed it to many hours of pleasure. Keep up the good work as its greatly appreciated.
---
Mervyn Lamb
31/10/13 at 7.07pm

What a great site and wonderful to see some great photos of the village and the activity's of the people there in the Past.

My own family came Medway Via Wouldham, my late Nan was Born there.

Names of Lamb and Benger can be found in Archives from the 1870's onwards.

My late Uncle Dennis Lamb is mentioned in records, he sadly drowned in The Medway in 1909.

I will do my best to promote the site and hopefully name some of the nameless.
---
Bob Donkin
29/10/13 at 7.07pm

Thanks for using one of my photos on your front page . I have added a link from my website http://buswalks.co.uk/?p=304 Borstal to Wouldham circular walk.
---
William Miles Burrell
22/10/13 at 10.15pm

I was looking for connections and found this. I had heard that our family came to the US from England or Scotland. Interesting history. I will follow up.

Thank you for your efforts at keeping history alive and relevant to the living.
---
Jim Bell
3/10/13 at 6.48pm

Re: Dave Wright's message.

I remember as kids, we were all taken to "Lil" to get our haircuts.

Most outstanding memory was the gleaming letterbox and door knocker to No.16....always highly polished brass.

If younger kids were restless in her chair during a haircut, she would give them a chocolate from a tin kept just inside the door.

As kids, we all called her Lil...not cheekily, no malice, just a term of endearment.
---
Dave Wright
29/9/13 at 8.30pm

My ancestors moved in to Wouldham in approximately 1870. Alice Loker married Daniel Harvey, they had five children, including my great grandmother, Ellen who married Joseph Rogers in 1890 in Gravesend. They went on to have six children, Ethel b1893. Ada 1895, Alice 1897, William 1900 who died two weeks later, Queenie b1903 - d1919, Lily 1905.

Ethel - Went on to marry William Smith 1917, they had 6 children. All born at no 16 Portland Place/Road, High Street, Wouldham;
Queenie b1919, my mum.
Beatrice 1920,
Vera 1924,
Henry 1927 who died at birth,
Ken 1930,
Brian 1935
Beatrice - Married Jess Smith, a warden at Borstal Prison, they had two sons and lived at Brambletree Cottages, Borstal (now under the motorway bridge) until he transferred to Lincoln Prison. Beatrice passed away in 2011.

Ken - Married Vera Diddems in 1952, no children, Ken died in 1996 and Vera is still alive.

Vera - Married Dick Owens, also a prison warden in Borstal. Transferred to Lincoln, they had four daughters, transferred to Durham prison. Vera died in 2007; I am still in touch with all four girls.

Brian - Married June Hawkins in 1958, no children and divorced in 1966. He died in 2007.

Queenie - My Mum. She married Herbert Wright in 1939, they had three children, they lived in St Margaret's Street, Rochester as he worked at Shorts. The house was damaged in an air raid on Short's so dad sent mum and my brother to live in Portland Place/Road until I was born. The he got a house in Gillingham in 1941. Here she gave birth to my sister. My brother died several years ago and mum died in 1987. The three of us as kids spent happy holidays in Wouldham at Brambletree with our cousins. We were taken down Ferry Lane to see the Narwhole in 1949. Played in the derelict cement works and the chalk pit - before the council filled it in. Fishing in the Medway and helping Dave Kitney with his allotment. How I miss the good old days.

Ellen Rogers is buried in the church graveyard with her husband and Queenie. One of my cousins and me visited the grave early this year - I am hoping to get there soon to clean the headstone. Dave Kitney's dad, Moses, is also buried in the next plot.

Ada - Married Will Wickens in 1920, they had one son and lived in Gravesend (lost touch).

Alice - Married Dave Kitney in 1920. They had no children. Dave Kitney is well known around the area as he and his brother started the Kitney bros :- Motor Proprietors Coach Company until being brought out by M&D (Maidstone and District). He was also the local policeman during World War 2. Alice died in 1962.

Lily - Never Married, she contracted yellow fever as a young girl, it affected her back as she was always bent over very badly. She still lived at home with her mum, she passed all her exams as a hairdresser and opened up a saloon in her mum's front room. All our family would get their hair cut cheap. She died in 1974.

I am enclosing some family photos, are you able to put a date and answer the reason of the Parades and is it a fireman's funeral? Which G.R. Coronation is it?
---
Martin Jukes
23/9/13 at 6.08pm

Wonderful site, highly informative and interesting.

Incidentally, in the "Houses" section, the unnamed row after Providence Place that is now numbered 46-52 High Street, was formerly 9-12 Providence Place. My house was number 12.
---
Sue Murch
22/9/13 at 3.57pm
My dad ( roy norris ) is the son of percy and maud norris, they had 7 children, 5 are still alive, roy is now 82 and living in lydd on the romney marsh. Dads mum was a Stevens before she married Percy Norris. Roy lived in Portland Place and married brenda franks who lived next door, once married they lived at number 6 Portland Place and had 2 children myself, sue and a son, brian.

Having read about all the family, you mention a man who is 91 and is living in Faversham, which is where I live now, have you any more details on this man.

In photo number 16 one of the princess is iris sutton ( nee norris ) roy norris's sister. the 7 children whose parents were maud and percy norris, children were in order iris, peter, roy, patrica, spencer, neil and thelma. peter and iris are sadly no longer with us but the rest live in burham, rochester, and strood.

This website is really bringing back the memories,I myself lived in wouldham until my early twenties when the family moved to borstal.

Myself or my dad (roy norris ) would be very interested to hear from anyone who any of the norris family or the stevens family, roys mum was a stevens before she got married. brenda norris ( nee franks ) was also brought up in the village having moved there from strood after their family home was bombed during the war.

Many of the norris family are buried in the churchyard has are george franks, maud franks and brenda's brother ron.
---
Anne Martin
22/8/13 at 7.58am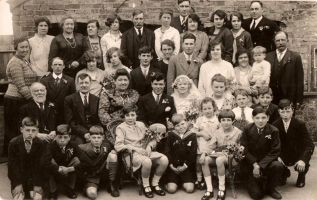 "I wondered if you might be interested in the attached photo, of a 1930 Wouldham wedding. The groom is Henry Norris, grandson, I believe, of the whiskery Mr. Norris pictured on the website on a garden seat at the Homestead. Henry's father and mother, Ernest and Sarah, are on the left of the bridal couple. My mother, a member of the Norris tribe, is in the back row & various relatives dotted around. (How many copies of this photo are still in existence!!)

The people in the wedding photo are:

Back row: Mrs. Watson, Mrs. Horton, (unknown woman), Lilian Bennett nee Norris (my mother), Harry Swadling, Lucy Swadling nee Botley, Mr. Bonwick, Mrs. Bonwick,Rita Norris, Hilda Norris, Phil Timothy.

3rd row: Mrs. Gadd, Stanley Norris (brother of Ernest)*, (unknown woman), Clara Botley, Ernie Norris, Minnie Norris (my grandmother), Harry Botley, Rosie Botley, Win Timothy with baby Roy, Jesse Norris (my grandfather).

2nd row: Henry Norris ('old Uncle Harry', father of Ernest)*, Ernest Norris (father of the groom), Sarah Norris ('Aunt Sally' - mother of the groom), Henry Norris, Ada Norris nee Botley, Mrs. Botley with a little boy, Tim Timothy, George Norris (my uncle)*.

Front row: Jesse Norris jnr (my uncle Joe)*, Albert Swadling, (unknown boy), ? Watson (bridesmaid), Clarence Swadling, ? Watson (bridesmaid), Percy Botley, 'Ginger' Norris.

(My mother said she was looking grim in the photo because the gentleman next to her was a horrid man known as 'Old Sod'. His son in the sailor suit in the front row was also horrid and known as 'Young Sod'!!)

* Stanley was a gentle little man who never spoke and lived with Ernest & Sally at the Homestead.
* Henry Norris - I think this is the whiskery old gent on the garden seat at the Homestead on the website.
* George Norris, my mother's brother, is still living, aged 91 (in Faversham).
* Jesse Norris Jnr., (Joe),my mother's brother - died in the submarine 'Urge' near Malta in 1942. His name is on the WW2 plaque on the Wouldham Church lychgate. I have newspaper cuttings reporting him missing and then when it was confirmed he had been lost.

I spent many happy hours as a child visiting Uncle Ern and Aunt Sally at the Homestead, a serene place with a ticking long-case clock and a big kettle bubbling on the hob. I am still in touch with a school friend whose grandfather used to row the ferry across the river. Her mother was a Stevens and was at Wouldham School with my mother.

p.s. 'Aunt Sally' on the wedding photo was a Blackman before her marriage - another well-known Wouldham family.

p.p.s. Photo 246 - Bernard Norris, the boy with the dog. He might have been the 'Bernard' who was killed during the war along with two of his friends - teenage, I think - when they found a live shell and threw it on a bonfire with fatal results. My grandma used the incident as a warning to me not to pick up any unusual objects - 'remember what happened to cousin Bernard!' I was reminded frequently."
---
Jim Bell
8/8/13 at 6.06pm

A few things that spring to mind...
HOUSES: Borden House:
When I was at Wouldham School (between 1953-1959?) we had a Hungarian Refugee boy attend classes.
He lived in Borden House.
His name was Gabor Kundlak (funny how you remember things).
After moving from Ravens Knowle, Jimmy Fletcher lived there for a while, I recall. The kennels in School Lane were also developed into dogs kennels and run by him.
Mrs Uings is pictured in post Office (old Rose & Crown).
Her son, Paul, was at secondary school, same time as me.
WOULDHAM HALL:
I mentioned Dennis Worcester once before.
I believe he holds "Mens Supper" occasionally in The Medway Inn.
Have a feeling he lived at Wouldham Hall....one of your photos shows "Mrs Worcester" outside.
Unfortunately, I didn't know his mum, so don't know if its her, or his granny.
SCHOOL:
Had a lovely garden where children tended to vegetables etc.
I can recall weeding and digging potatoes....and mowing the lawn.
Photo of Medway Inn & Football Club.
The clubhouse and changing rooms was built by villagers.
The other church / village hall was next to the church.
Used for parties / wedding receptions / jumble sales, and even concerts.
Do you know David Pope?
Think he lives in Ferry Lane now, but I used to live next door to him at Knowle.
He was in several Pop groups....as drummer, then as guitar / vocals.
His sister Anita joined him a few times.
MISC. PHOTOS:
Photo of Freda Smith.
Husband was Fred Smith.
I was friends with her son, Geoffrey. (Haven't seen him since those days).
She also had a daughter Kathy, who married Tim Brown...son of the farmer who had the farm at top of school lane.
---
Jim Bell
30/7/13 at 9.35pm

I delivered groceries for the Co-op after school. Riding an old bike with basket on the front... like David Jason in Open All Hours on TV.
The Post Office was to the right, inside the door, and the shop counter faced the door, Mr Cronk was in charge at the time.
---
Roy Moore - www.kentphotoarchive.com
30/7/13 at 10.59am

Congratulations, a great new site.
It's easy to see that a good deal of research and thought has gone into putting this site together.
Look forward to seeing it grow over the next few months. I'll certainly spread the word!
---
Jim Bell
28/7/13 at 10.48am

Wouldham Court Farm House used to be used as Doctor's surgery when I was a kid. Dr Reville and Dr Morrisey (I think) in the days when they would pour coloured mixes from big jars on a shelf to cure coughs and illnesses.
The waiting room was cold, with a big horse-hair sofa.
Going through front door (key was on a string through letter box)...waiting room was on the left, while surgery was on the right.
---
Andrew Ashbee
26/7/13 at 12.23pm

Well done - a very good start. I'll keep a look out for other material for you.
---
Dylan Moore
25/7/13 at 11.22am

A very professional and interesting website about a village with a fascinating history.
---
Peter Smith
24/7/13 at 9.43am

Very well-researched website. I lived in Wouldham for many years and have read things here that I never even knew.
---
Jim Bell
23/7/13 at 8.05pm
Nicely laid out site.
I'm sure it will grow rapidly once word gets out about it's existence.
---
Mark Power
23/7/13 at 7.59pm

Great local history website about Wouldham. I'm from the Medway Towns and love reading all about the history of Medway and the surrounding villages, and countryside. Keep up the good work.


---